The Ultimate Winter Bucket List For Families – 100 Awesome Ideas
the ultimate winter bucket list for families – 100 awesome ideas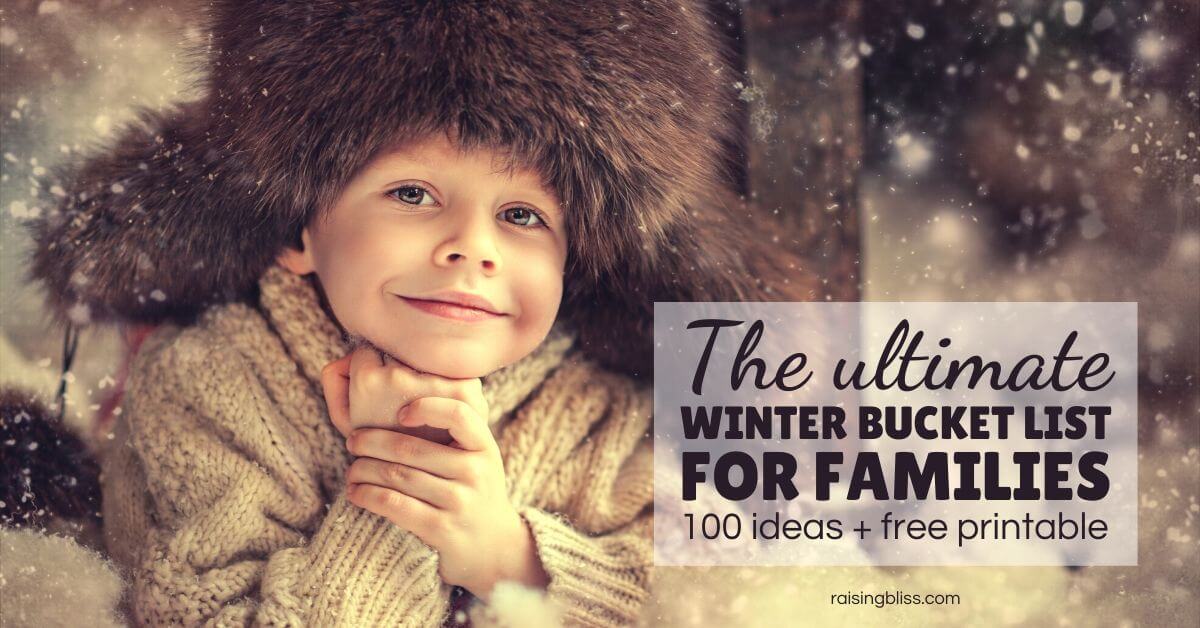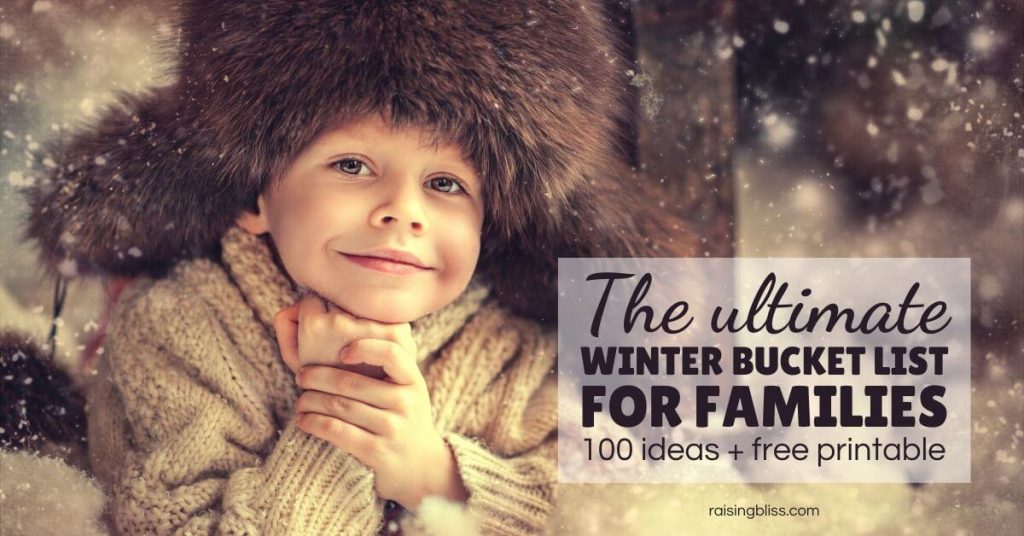 My twins looked out the window, mesmerized by the tiny pieces of white clouds falling down from the sky. Their little brother was watching, too. This was the first time in their conscious lives they saw snow. Living in the south, it's a real treat when we get anything that remotely resembles snow.
It snowed twice more that winter season, which was more white goodness than we could ever ask for. We didn't have sleds or mittens, so we used laundry baskets and double socks on our hands to slide down the hill and play in the snow.
I'm all for making memories with kids, and there are so many more ideas for things to do in the winter months other than playing in the snow. This post contains affiliate links. This means if you make a purchase after clicking a link, I will earn a small commission, but it won't cost you a penny more. Click here to read my full disclosure policy.
No matter if you live in a warm climate or if you get snowed in often, these ideas will keep the family fun going all winter long.
100 ideas for a Fun Winter Bucket List for Families
Want this list as a free printable checklist? Join the motherhood tribe email list below and it'll be on its way to your inbox.
Bake a pie
Go bowling
Make s'mores
Feed the birds
Go snow tubing
Make hot cocoa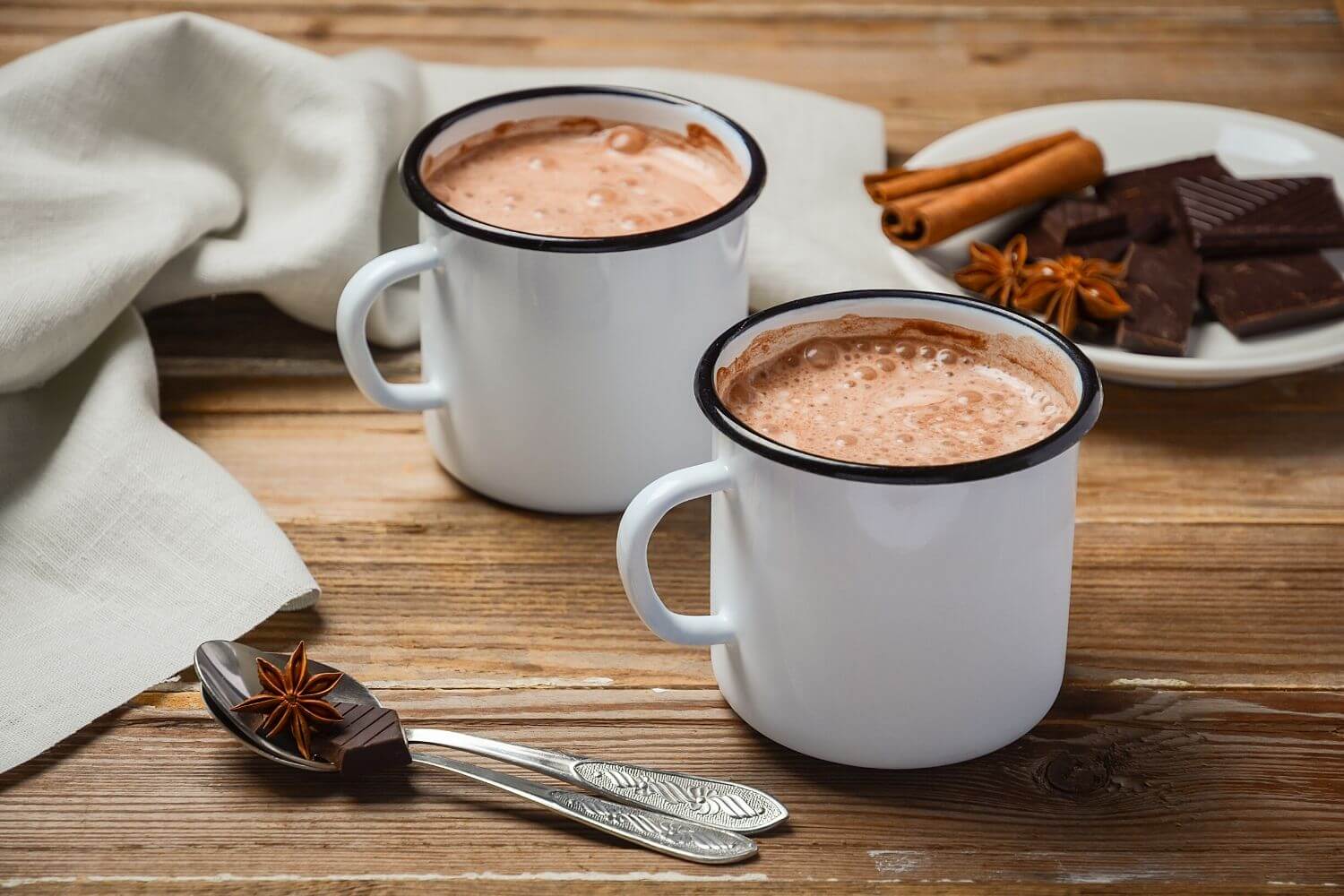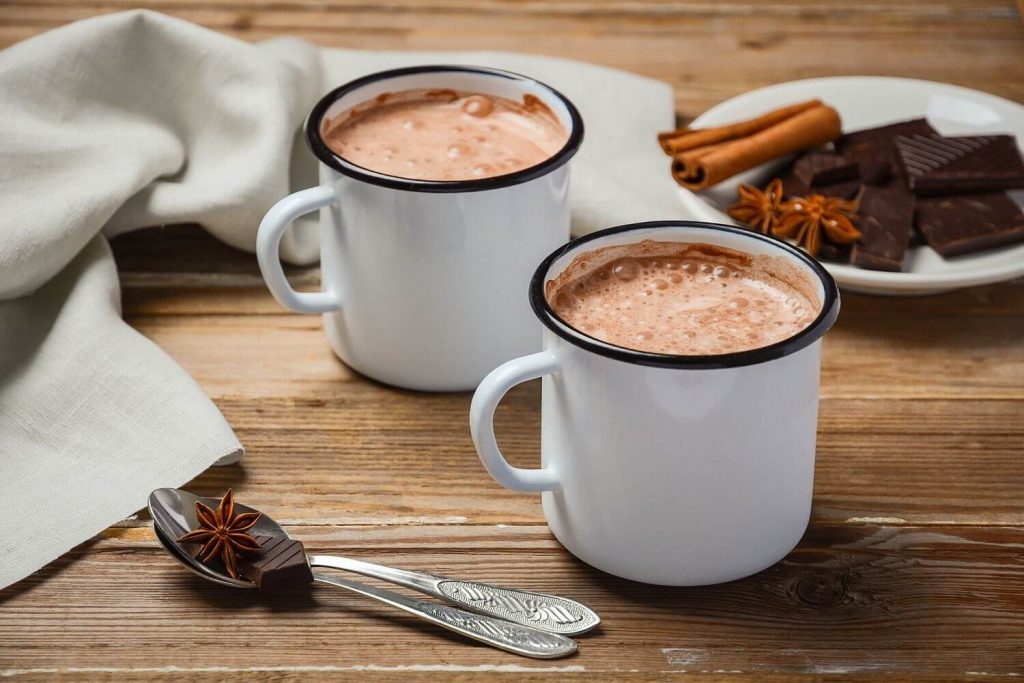 Roast chestnuts
Have a tea party
Enjoy a campfire
Look at old photos
Have a pajama day
Get Elf on the Shelf
Mail letters to Santa
Cook dinner together
Go see Disney on Ice
Go to a hockey game
Go to a winter festival
Stay up past midnight
Go Christmas caroling
Play with instant snow
Go see the Nutcracker
Have a role switch day
Decorate for Christmas
Get an advent calendar
Have a "no screen" day
Go on a scavenger hunt
Have an indoor Nerf war
Host a Christmas dinner
Take pictures with Santa
Make a popcorn garland
Make spiced apple cider
Visit an indoor waterpark
Have a silly dress-up day
See a live Christmas play
Have breakfast for dinner
Go to a Holiday Craft Fair
Watch a Christmas movie
Wear Santa hats in public
Cut out paper snowflakes
Have a family reading day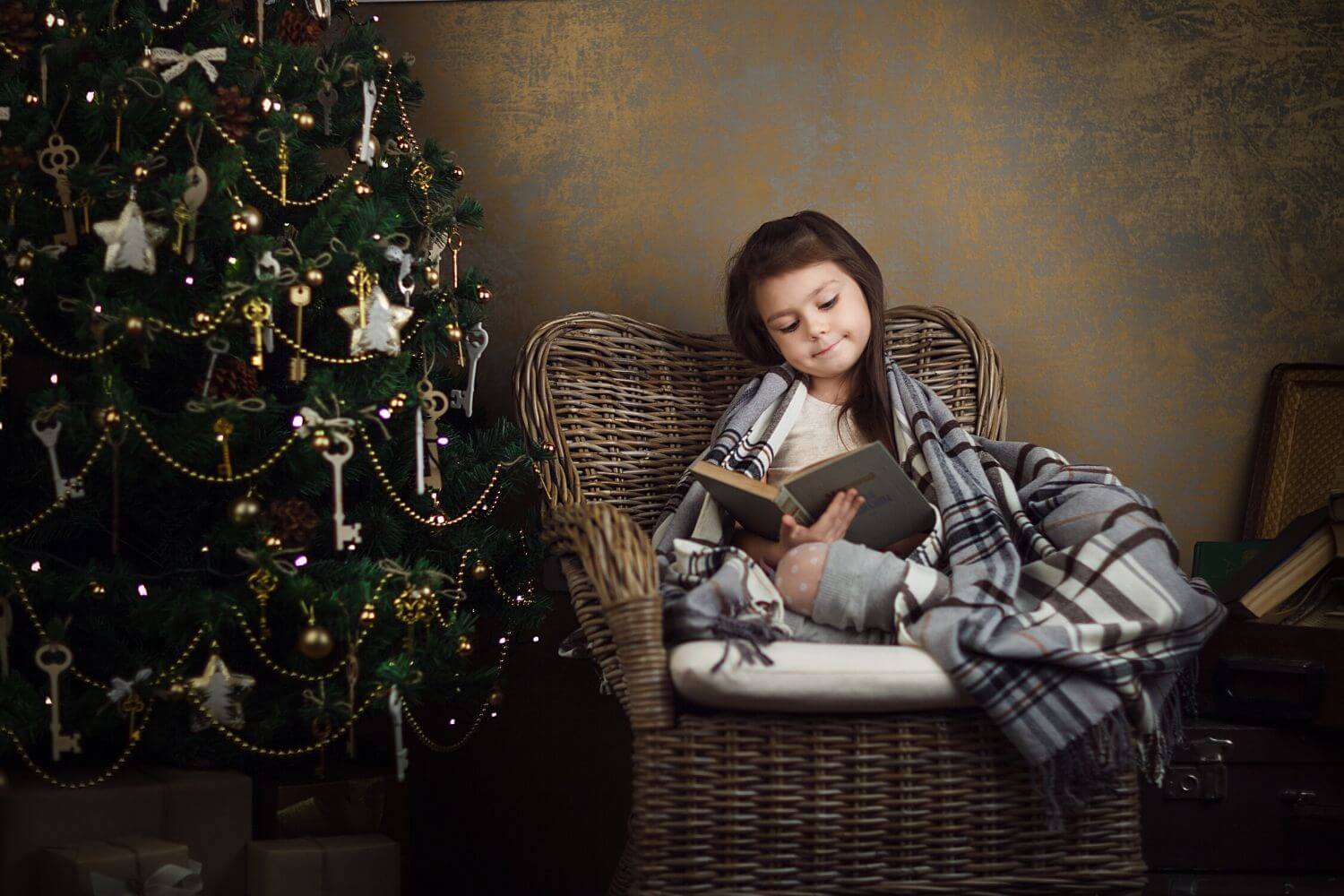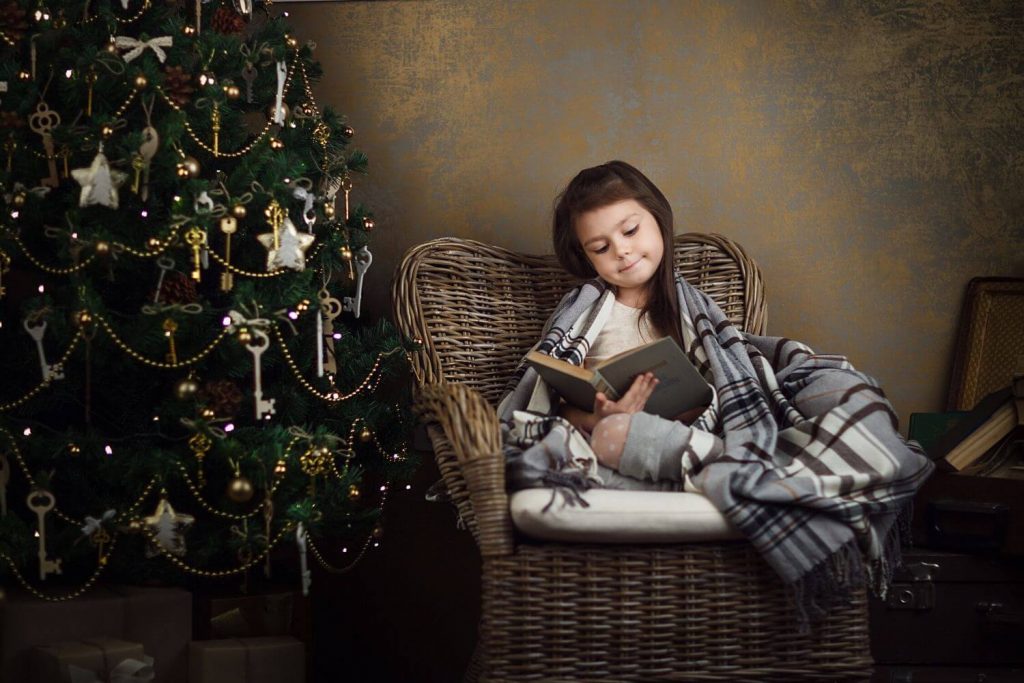 Have a "sleep in" morning
Build a gingerbread house
Start a new family tradition
Take a Christmas light tour
Volunteer at a soup kitchen
Camp out in the living room
Build a fort in the living room
Play a new fun holiday game
Do a random act of kindness
Make a Christmas countdown
Host a cookie exchange party
Do a family winter photoshoot
Write a letter to your older self
Learn to cook in an Instant Pot
Attend a tree lighting ceremony
Have story time by the fireplace
Donate winter coats to a shelter
Have a family board game night
Make a DIY Christmas ornament
Set family goals for the new year
Send a care package to a soldier
Buy groceries for a family in need
Catch snowflakes with your tongue
Make up your own Christmas Carol
Have a picnic by the Christmas tree
Fill an Operation Christmas Child box
Pint family photos and make a collage
Bake and decorate Christmas cookies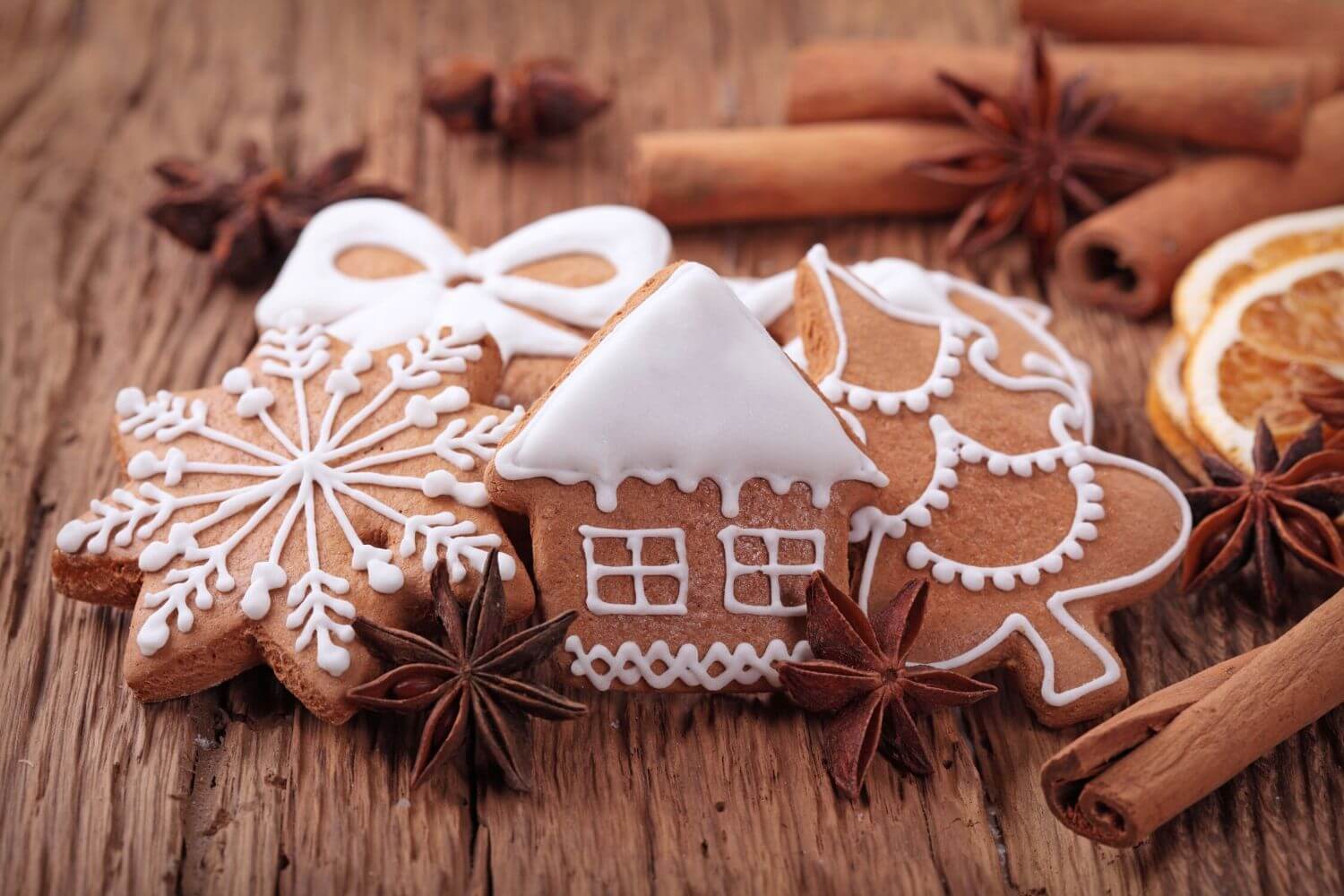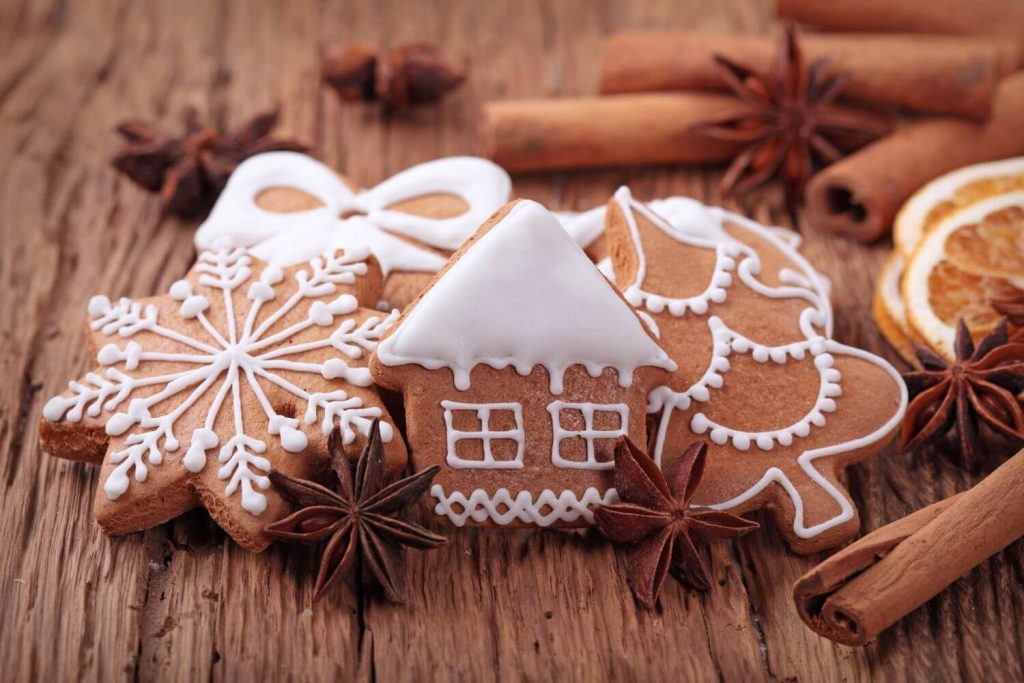 Host an Ugly Christmas Sweater party
Write handwritten letters to each other
Feed someone's expired parking meter
Build a giant puzzle and glue it together
Decorate your own Christmas stockings
Buy Christmas gifts for someone in need
Attend a midnight Christmas Eve Service
Visit the library and get new books to read
Support artisans by buying handmade gifts
Decorate wrapped Christmas gifts together
Make a pinecone wreath for your front door
Blow bubble outside and watch them freeze
Go see the latest family movie at the theater
Take a Christmas photo in matching pajamas
Invite a family in need to have dinner with you
Have a Home Alone movie watching marathon
Swim in hot springs or an outdoor heated pool
Leave a nice surprise on a neighbor's doorstep
Write thank-you notes to friends and loved ones
Declutter closets and donate clothes to a charity
Visit a tree farm and pick out your Christmas tree
Learn to say "Merry Christmas" in another language
Make or order Christmas cards for friends and family
Have a Christmas music dance party in the living room
Make a photo album with pictures from the previous year
Invite friends over and perform a Christmas play for them
Have an indoor snowball fight using socks rolled into balls
Bring Christmas cookie and candy canes to kids at the hospital
Invite another family over and play charades against each other
Bundle up and take an evening walk to look at neighborhood lights
Paint your freshly snowed-in yard with water and food coloring in spray bottles
Drive around your neighborhood to look at houses decorated with Christmas lights
What do to with this huge list of winter bucket list for families
Check these activities off the list as you complete them, and see how many you can do in one winter. Do it again next winter and see if you can beat your own score.
Want this list as an easy free printable checklist? Join the motherhood tribe email list below and it will be on its way to your inbox.
Related Posts: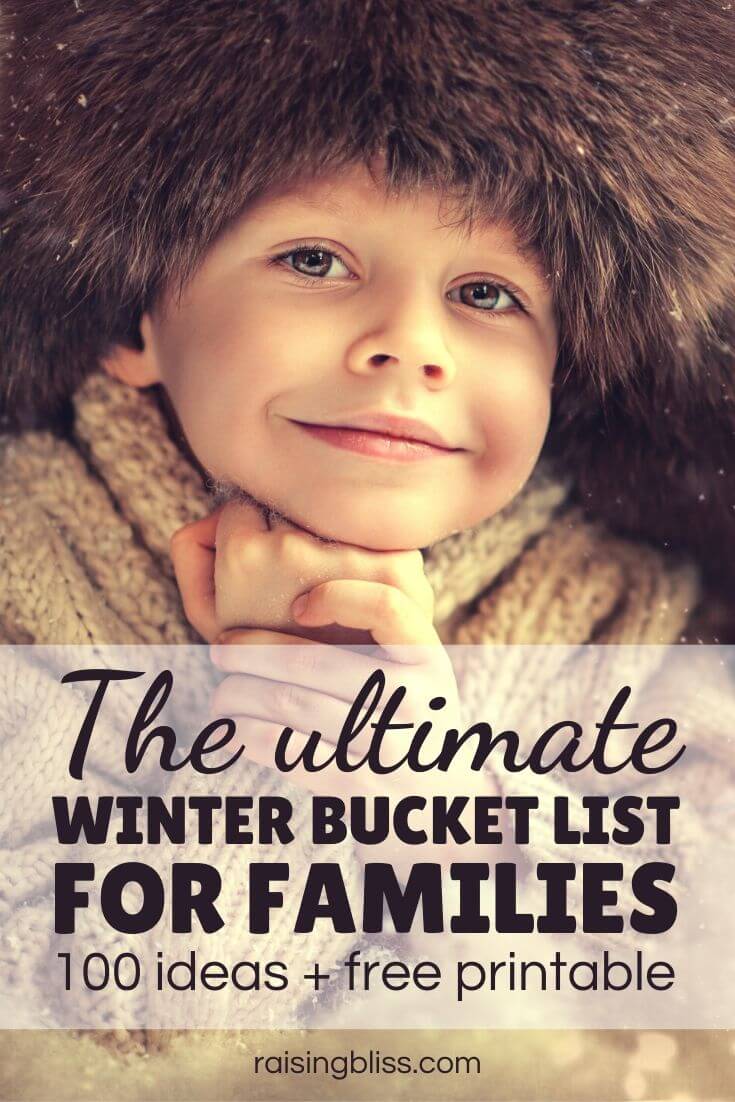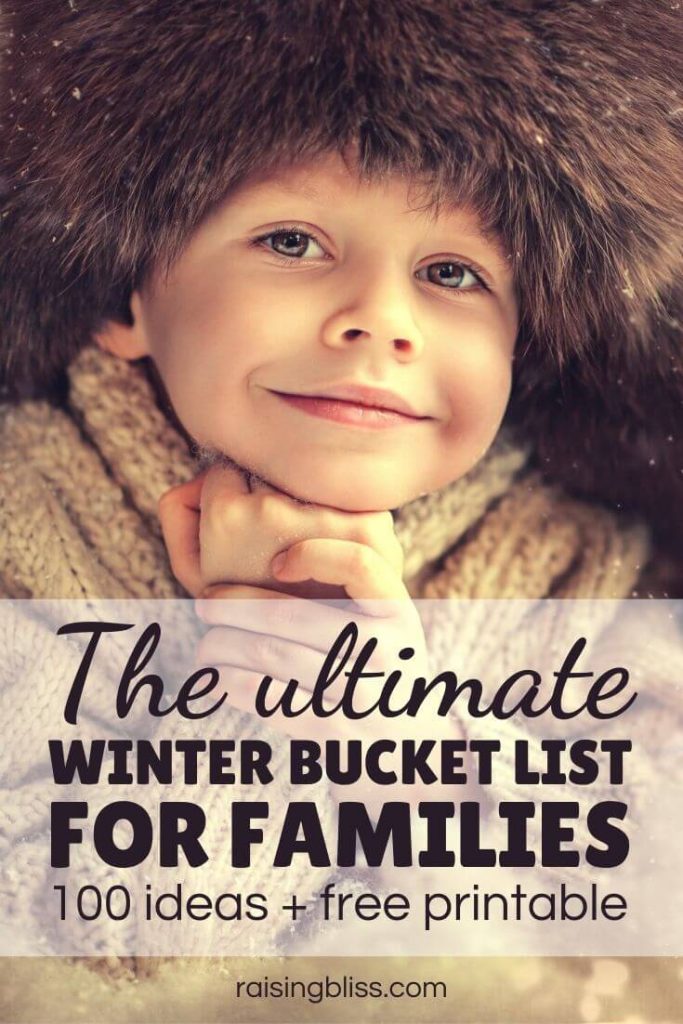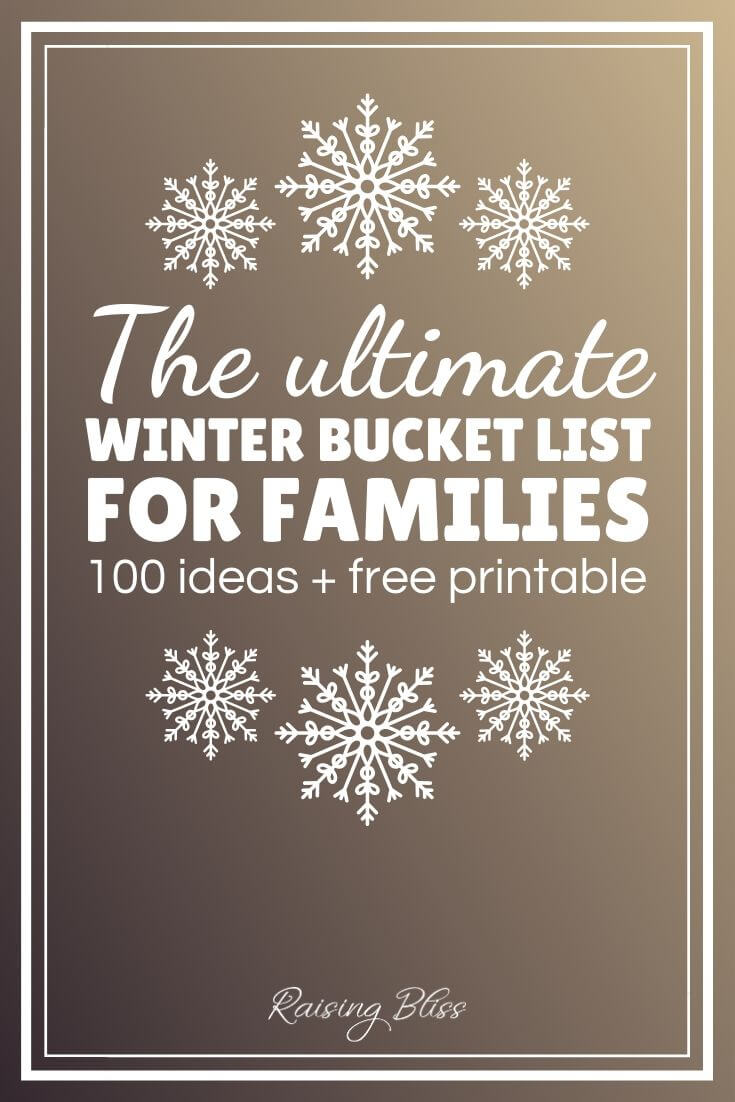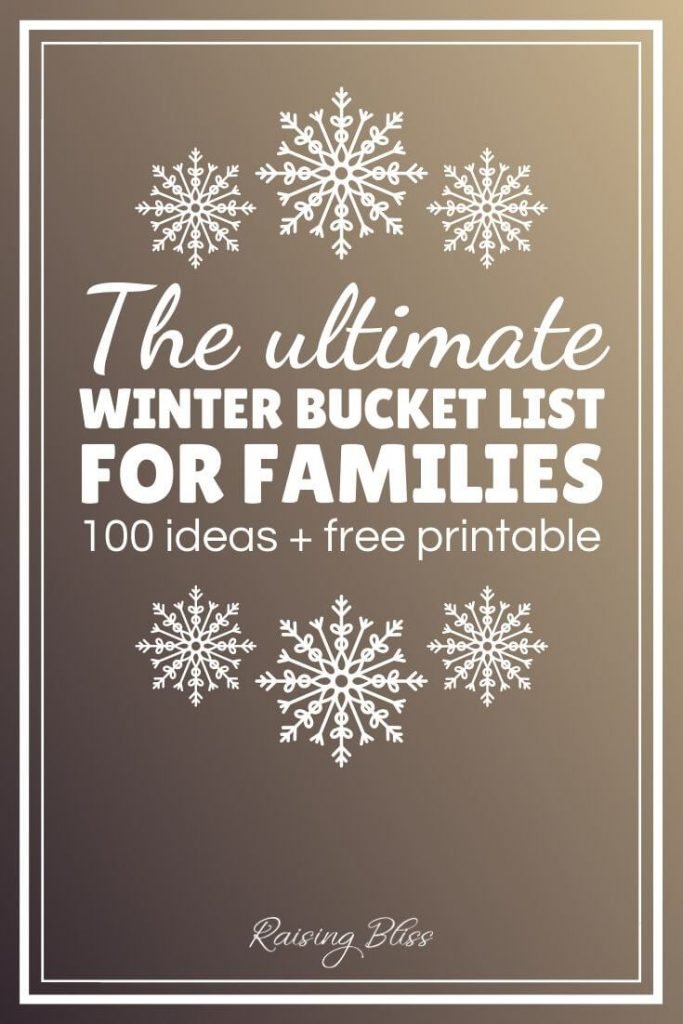 The Ultimate Winter Bucket List For Families – 100 Awesome Ideas