What to Put in a Baby Keepsake Box
Inside: What to put in a baby keepsake box and when to give it to your grown child.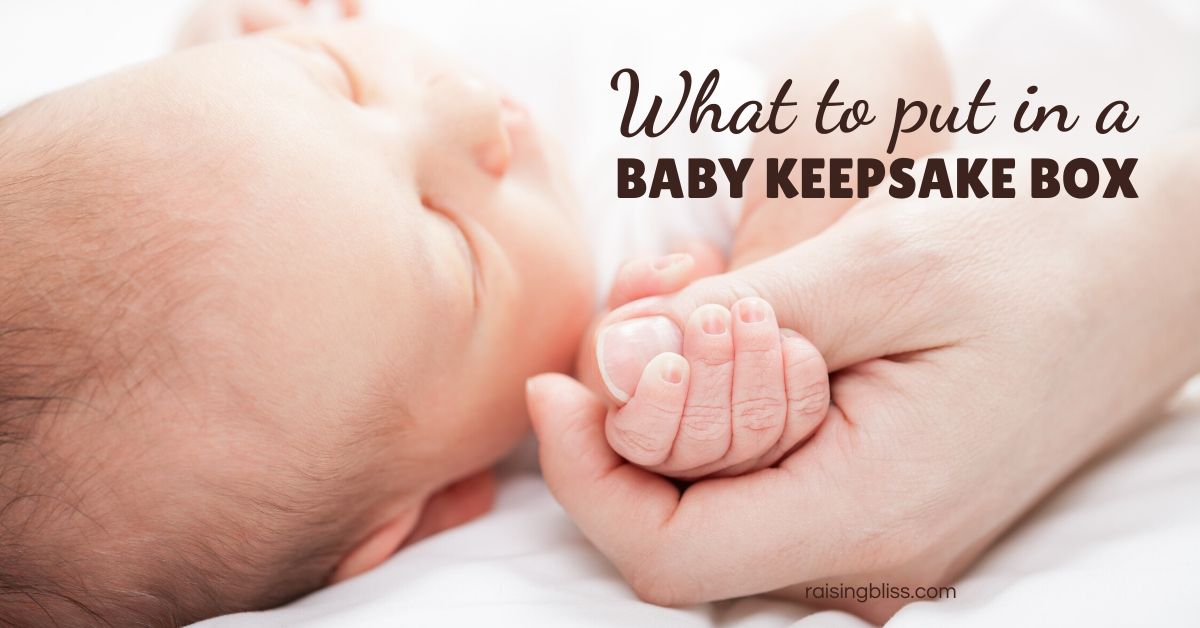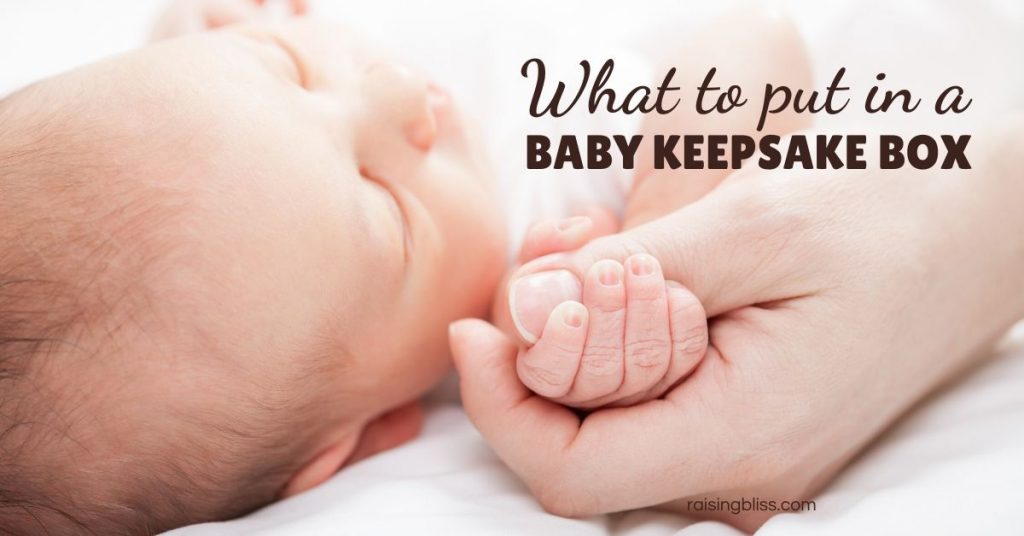 "They were so tiny!" I exhaled as I held our twins' coming home outfits in my hands, showing them to my husband. I was about to have our fifth child and decided to look at the contents of our kids' memory boxes. My husband smiled as the memories rushed in to overtake our thoughts. I held up a newborn size diaper, and stared at it, not believing that this very diaper size seemed too big for my newborn babies. They were now rambunctious 5-year-old boys, and life was never dull with them around.
Having a baby is a monumental milestone. As moms, we are excited to see our kids grow up and at the same time, we want them to stay little just a little longer. The reality is, kids grow up fast. If you're a new or expecting mom, you may not realize it yet, but all it takes is a blink, and you find yourself on your front porch, wiping tears off your cheeks as you wave goodbye to your kindergartner who just started school.
So what can you do to preserve the precious memories? You can take photos, get in those photos with your kids, record videos, and keep a diary of your baby's first year. But another way to keep the memories of your precious newborn fresh in your mind is to keep a baby memory box.
What is a baby memory box?
A baby keepsake or memory box is a small box where you keep your baby's memorabilia.
What to put in a baby memory box
Here are a few baby keepsake ideas. Although you can add more to this list, try not to go overboard. As tempting as it may be to keep every cute outfit with a picture attached to it, you don't want to end up with a chest of things you're holding on to. This post contains affiliate links. This means if you make a purchase after clicking a link, I will earn a small commission, but it won't cost you a penny more. Click here to read my full disclosure policy.
Want a baby memory box checklist as a free printable? Join the motherhood tribe email list below and it will be on its way to your inbox.
Ultrasound picture
Footprints and handprints
Baby's and mom's hospital wristbands
Birth stats card from the hospital crib
Newborn (or preemie) diaper, whichever size he wore when he was first born
Coming home outfit
Your baby's newborn photo, bonus points if he's wearing the coming home outfit in it
Baby socks and/or baby shoes
A newspaper printed on baby's birth date
A coin minted in baby's birth year
A lock of hair from his first haircut
His first pacifier
A photo of you pregnant with him
Your letter to your newborn baby
Baby milestone journal
Baby's lovie or favorite toy, if it fits in your special box
You can add other things to your baby's memory box, like the first tooth he lost, his first blanket, his first Christmas ornament, a cast of his foot and handprint, etc., but remember not to go overboard. A few story-filled things will be enough to keep the sentiment and memories alive.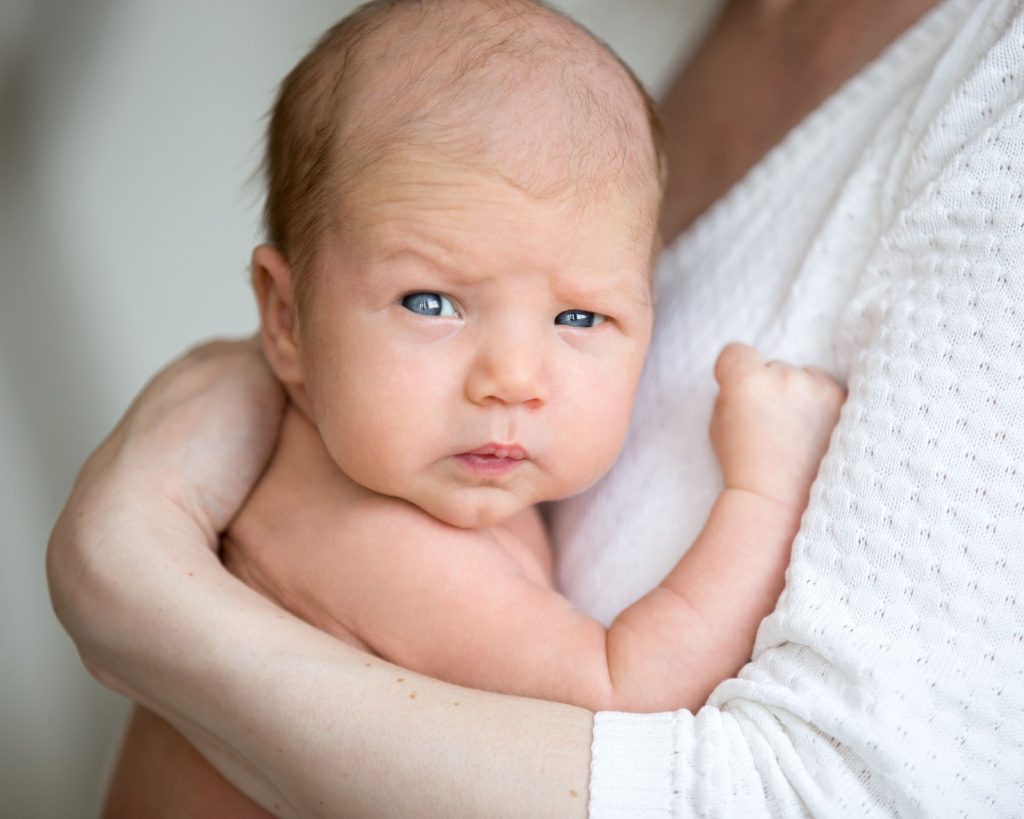 What box to use to store baby's keepsakes
For the time being, I put all my babies' memorabilia in generic small boxes with lids but plan on getting personalized keepsake boxes for each of our kiddos. When deciding on what box to use, remember to check the sizes before purchasing your box to make sure it will fit your baby's memorabilia. Here are some ideas:
When to give the box to your child
Let's face it, even though your teenage son might be intrigued by the contents of his baby box, it's probably not the right age to hand it over to him. Should you give it to him at 18? At 21? On his wedding day?
Ultimately it's up to you to decide when to give your child's baby memory box to him, but in my opinion, there is a better time that will be worth waiting for. Your child's baby box will be best received when he is more sentimental, which is when he has a child if his own. Imagine your son and his wife going through his baby memorabilia as they wait for their baby to arrive.
How long do you add things to your baby's memory box?
Although you can stop collecting your child's memorable items any time you want, I suggest keeping the baby keepsake box contents to baby things. You can always have another box with your child's select drawings, awards, and his first letter to mom in another space.
When your child grows and begins to test your patience, give yourself a five-minute break, get his baby keepsake box out, and let the memories rush back and overtake you. Breathe in his newborn outfit, and stroke your fingers over his newborn picture. When you put the box away and come back out, you will be a calmer, more present mom that your child so desperately needs.
Want a baby memory box checklist as a free printable? Join the motherhood tribe email list below and it will be on its way to your inbox.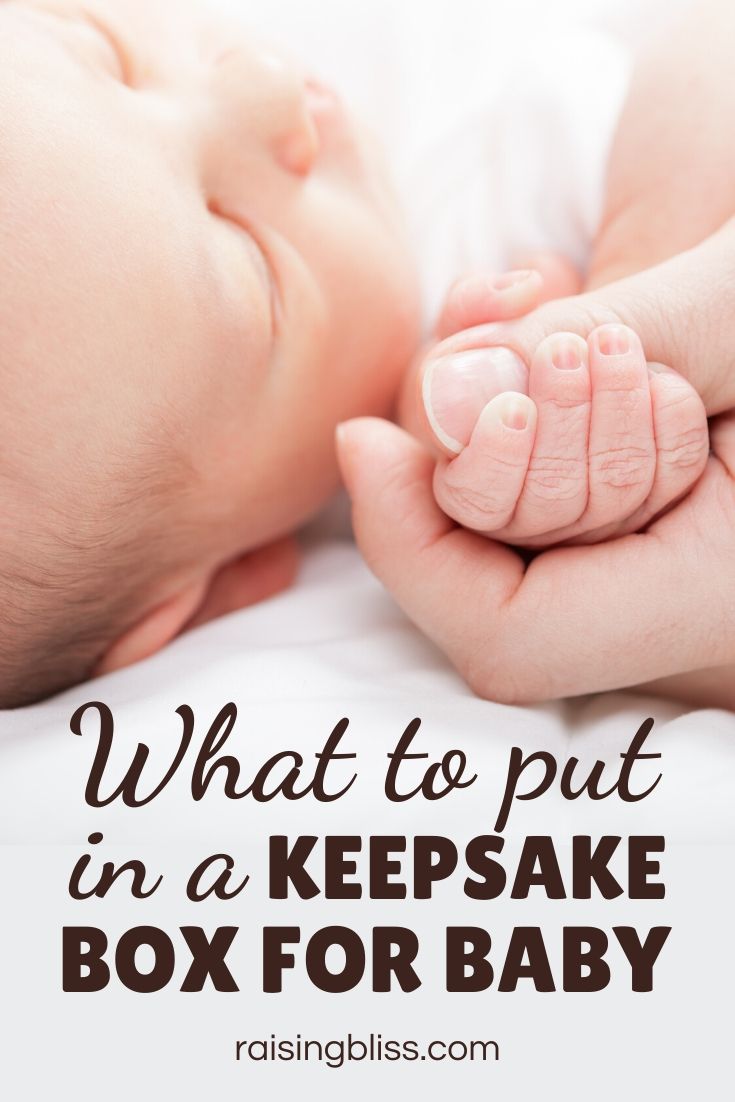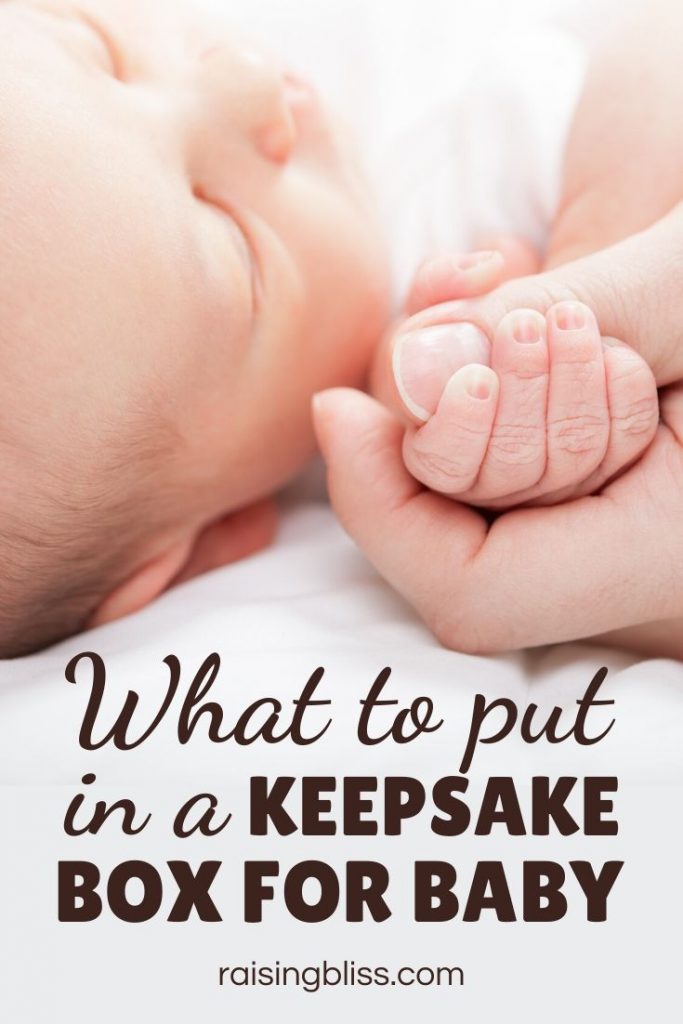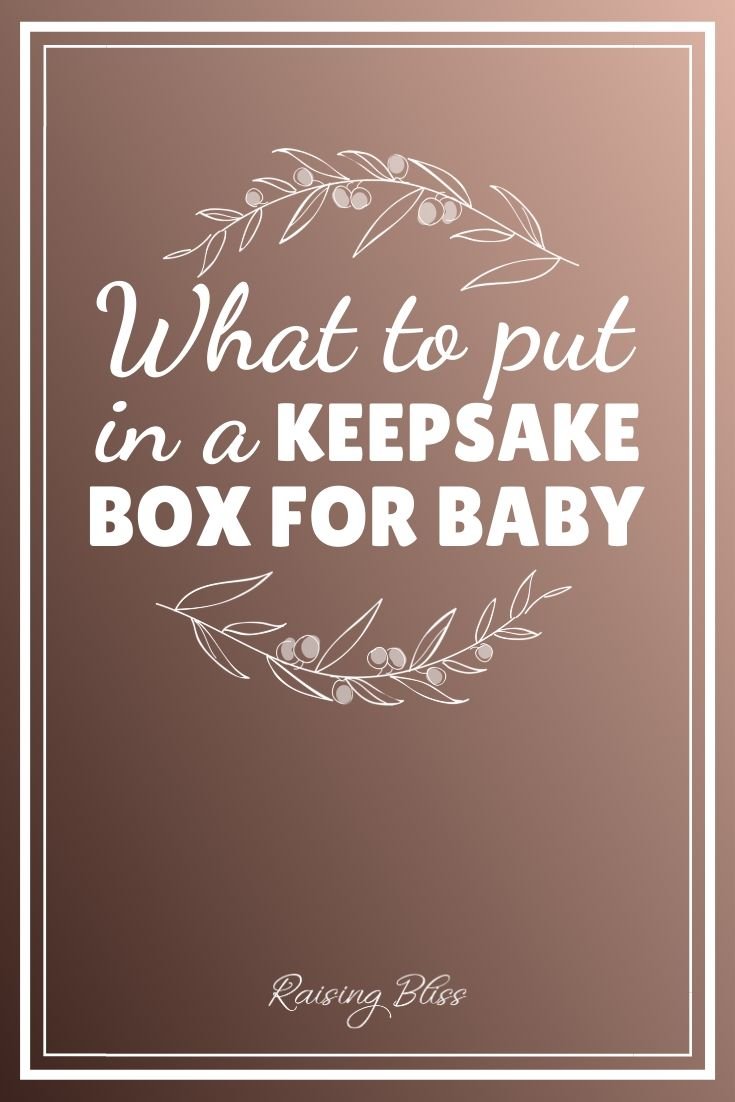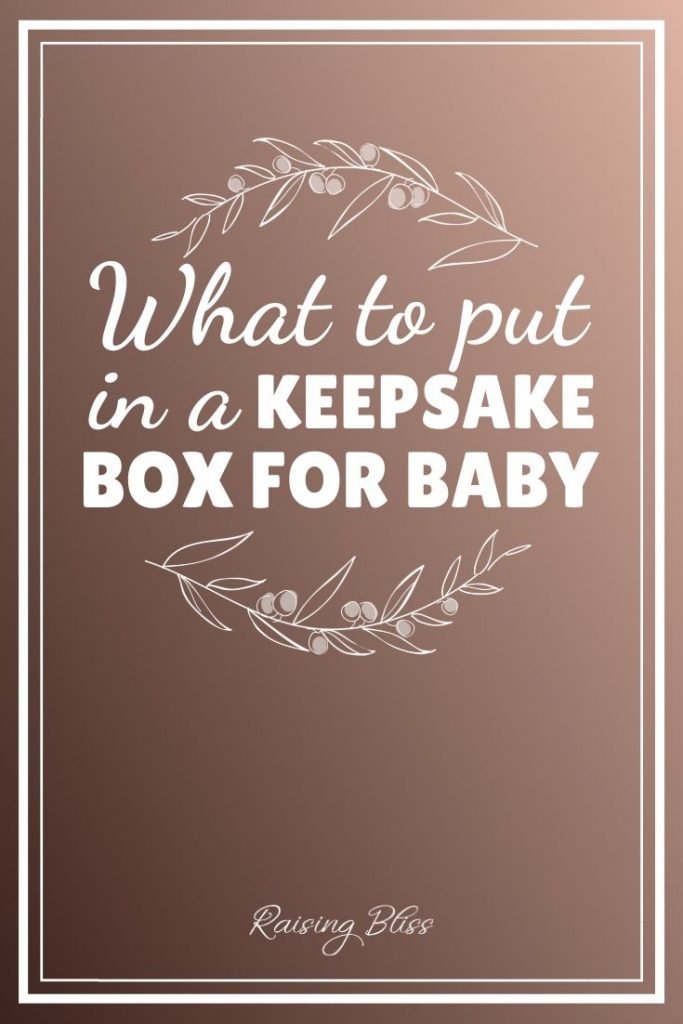 What to Put in a Baby Keepsake Box