Motherhood
Look, I get it. You've cleaned up the third mess this morning and it's only 9 am. You've warmed up your coffee for the second time and you still haven't brushed your hair, because… who has time for that?
You're used to putting your own needs on the back burner, and you can't remember the last time you curled up with a good book. Or a skein of yarn. Or watched a movie without interruptions.
You want to enjoy this mom life, but you've got things to do, people to care for, and a home to run. You desperately want to have time for what you really want to do, but no-one is offering to add an extra hour to your day.
You're overwhelmed with all the things, but you desperately want to feel good about your motherhood and utterly enjoy your children. I know how this feels, I've been there myself.
Hello, Friend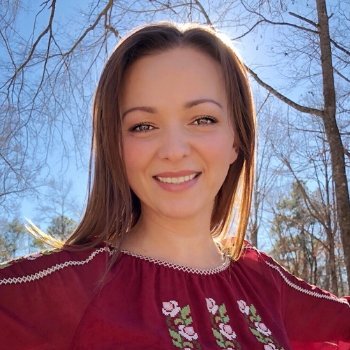 Hey mama, I'm Larisa. All my life I wanted to be a mom. But year after year my dream of becoming a mom wasn't coming true. Month after month, I sat on the bathroom floor, grieving the baby that would have been, and it seemed that no-one understood what I was feeling.
And then it happened, a miracle after years of waiting. I was pregnant with twins.
And it kept happening.
We were receiving miracle after miracle, and so, we had five kids in five years. We were blessed beyond our wildest dreams. With each positive pregnancy test, I said, "I'll take all the babies, all of them!"
Life Was Bliss
"How do you do it all?" Was a question I heard often. But back then, when I had three babies in diapers, or potty training three at the same time, or teaching one to eat by himself while teaching another to latch on correctly, I was still on cloud nine. I was a mother – a title that I thought I would never be able to hold. I was truly enjoying motherhood.
But not for Very Long
And then, little by little, mom life got the best of me. I notice myself being less patient and less content, and I let the doubt creep in. Am I a good mom? Am I doing motherhood right? As my babies grew, the challenges did, too.
"Is it easier now that they're out of diapers?" People asked me. "No, not really," I'd say. "It's hard in different ways. Now, I have to break up fights, teach them to make good choices, to grow up to be good people, and that takes a different kind of effort."
And in the background of all the mothering, I didn't like how I was feeling. I was overwhelmed, stressed, and just… tired.
Something Needed to Change
So I went on a mission. A mission to find balance in motherhood.
And little by little, by trying different things, failing, and learning from my mistakes, I began to see progress.
As I grew and evolved as a mother, I realized that along with taking care of those around me, I had to take care of me, too. I realized that being a good mom doesn't mean doing everything perfectly. I realized that I needed to separate the things that are truly important from the things that I made seem more important that they really were. And I needed to put less pressure on myself to get things perfectly right.
What You'll Find at Raising Bliss
And I know that I'm not alone. So many moms struggle with mom guilt, overwhelm, and frustration.
Here at Raising Bliss, I help busy mamas just find answers to motherhood challenges and make time for what means the most to them. I often talk about practical solutions to motherhood challenges and inspiration to truly enjoy being a mom.
I've found that many moms struggle with the thoughts of not doing enough, not being enough, and that too often they feel like they've failed. It's important for every mom to realize that they're not the only one struggling.
This is why my passion is to empower fellow mamas to slow down and enjoy what they have, because they're a much better mom than they give themselves credit for.
It's ok to not be perfect and not to have all the answers.  You are doing better than you think, mama.  I hope you stick around, let's get to know each other!  After all, this mothering journey is better traveled with friends.