Inside: How to have a fun family picnic without forgetting something essential. Get your free printable family picnic checklist.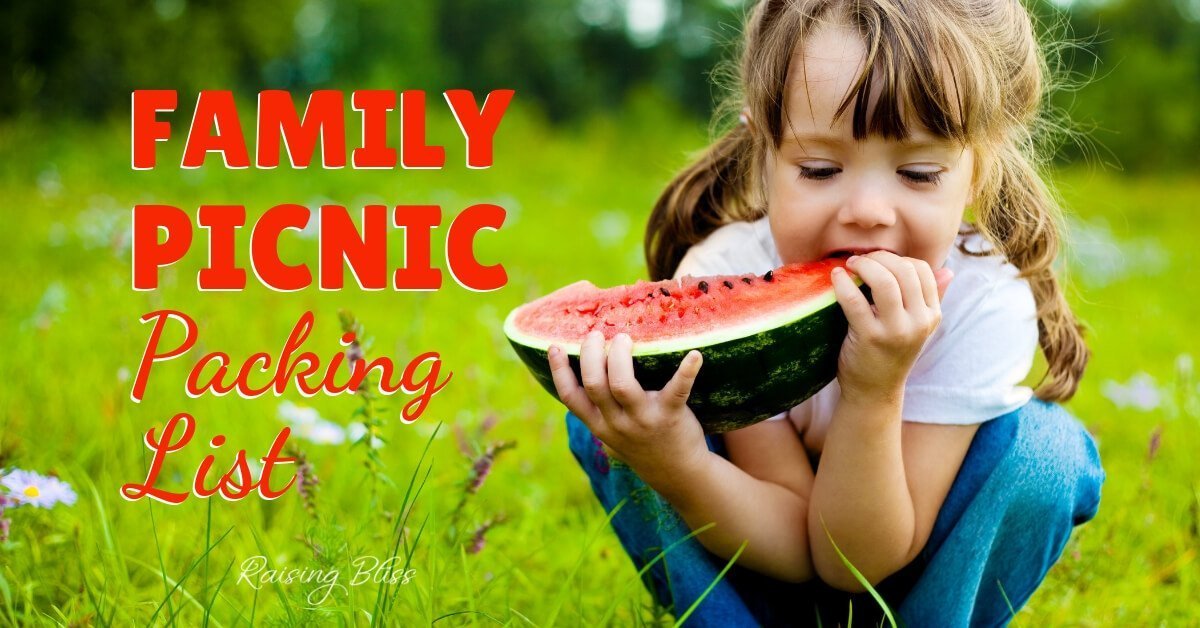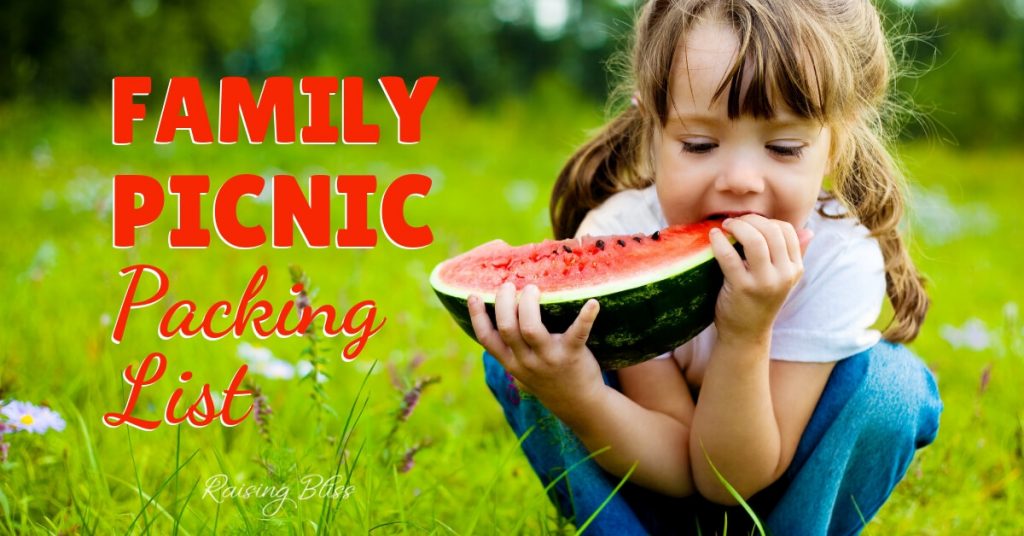 When I was little, I remember going on road trips with my parents and siblings to visit relatives that lived far away. When we got hungry, my dad would find the perfect spot to stop the car, and we'd all pile out onto the grass. Out came the blanket and the picnic foods my mom packed.
I don't know what her family picnic packing list looked like, but it was amazing how everything we needed magically appeared before us.
I have wonderful memories of those times. Enjoying our lunch outdoors, with the sun shining down through the leaves of the trees above, birds chirping, and an occasional grasshopper hopping by.
I love the picnics then, and I love them still. My husband and I like to pack up the kids, the food, and the essentials, and head to our own backyard or a local park. We find the perfect picnic spot on the grass, spread the blanket, get the kids situated, and enjoy our meal. It's a great way to combine fresh air, fun, and good food.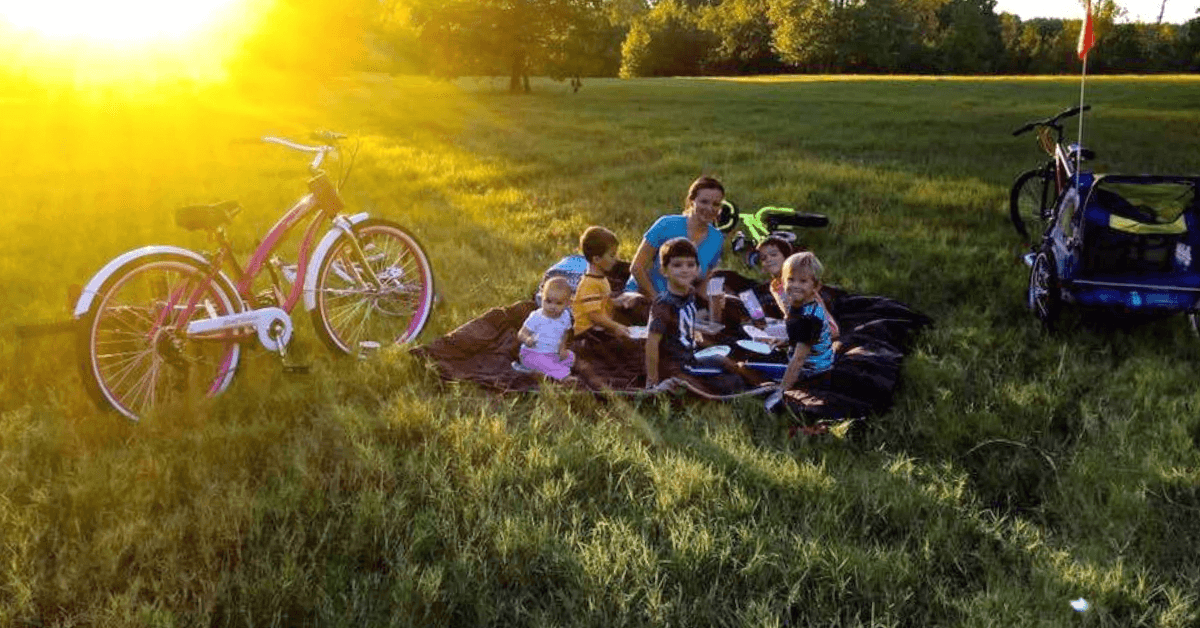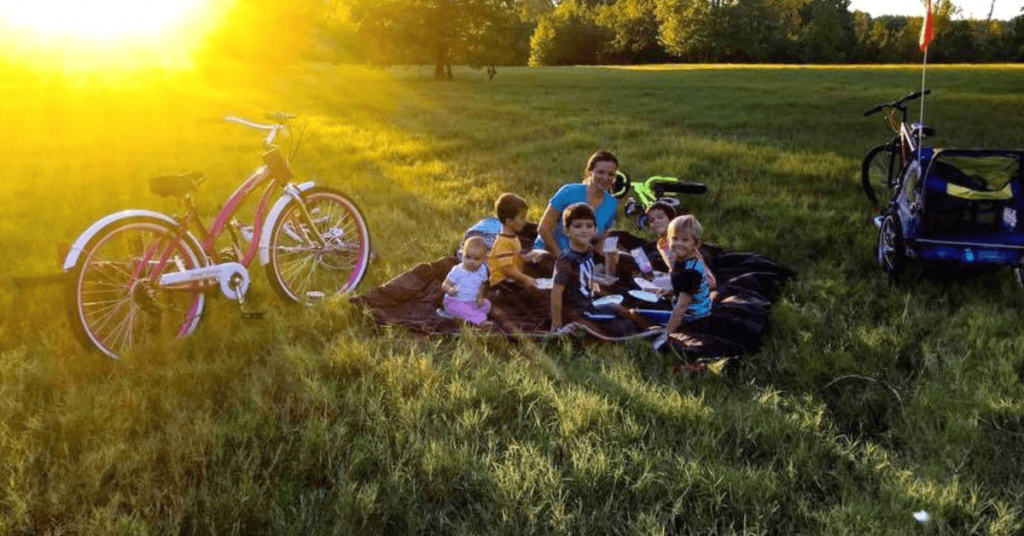 My family picnic checklist may look different than my mom's, but it's working for us. I hope you find this list of picnic essentials useful the next time you pack your basket to eat in nature.
This post contains affiliate links. This means if you make a purchase after clicking a link, I will earn a small commission, but it won't cost you a penny more. Click here to read my full disclosure policy.
Our Essential Family Picnic Checklist
1. Picnic basket or bag
Having a basket or a bag that will hold your picnic items makes for a quick set up, which is important when you have hungry kids who can't wait to dig into the goodies you brought.
2. Blanket
There's something about having the picnic on the grass that makes it even more special. The kids seem to be more excited about eating on the ground than a park table.
Have a large blanket ready, and make sure it's big enough to hold all your family members and the delicious food in the middle.
3. Disposable table cloth
Add a disposable table cloth to your list of essential items. Fold it into a square and place it in the middle of the picnic blanket before setting your food out. This will protect your blanket from food spills and will make for easy cleanup.
It's also a quicker, better way to clean up. When you're ready to wrap up, just put the trash in the middle of the tablecloth, roll it up, and cleanup's done.
3. Plates and utensils
Disposable plates and plastic forks are convenient, but if you already have shatterproof picnic dishware and utensils, that's great too.
Just remember to have a plan for the dirty dishes afterward. If you don't plan on washing them at the park, pack a large ziplock bag to store the dishes and utensils in after your meal and wash them when you're back home.
4. Hand sanitizer
This essential picnic item is easy to forget. Have it on hand and use it before eating.
5. Food
There are many picnic food recipes and ideas out in the interwebs, but somehow, even the simplest of finger foods become absolutely scrumptious when you're eating outdoors, surrounded by your most favorite people in the world.
Pack simple mini sandwiches. Instead of mayo, use cream cheese spread. Make your own by mixing softened cream cheese with chopped dill, a bit of garlic powder, and a dash of salt. Cream cheese holds up better than mayo, and it won't make your bread soggy.
Hard boiled eggs are also a good idea to bring on a picnic.
Fresh vegetables are a perfect picnic food. Wash and slice them beforehand so you don't have to do it at the park. I like to slice cucumbers, carrots, bell peppers, and celery into long dippable pieces. Don't forget the dip. We love to dip our veggies in ranch.
For dessert, pack fruit salad or pre-washed fresh fruit. Core the strawberries and slice the apples beforehand and have them ready to go.
6.
Drinks

Try to pack individual drink containers so you don't have to bring big bottles and plastic cups.

Don't forget the water bottles. Other than drinking, water can be used to rinse your little explorer's hands if he gets into something questionable or decides to squeeze the banana to see if it makes juice like the strawberries do.
7. Tray
You may not think you need a tray. If you've never had a picnic on uneven ground before, you'll end up holding your own and your kids' drinks the whole time.
Add a small lightweight tray to your family picnic checklist, it will provide a leveled surface to set the drinks on. This non skid serving tray will keep your drinks from sliding around.
8. Paper towels
Paper towels are versatile. They can be used as napkins as well as for cleanup. You may also need them to dry the little banana hands you might need to rinse.
Napkins will escape if a little breeze picks up, but if you pack a roll of paper towels, you won't have to worry about the flying paper that you'll have to chase. I don't recommend bringing kitchen towels unless you are super eco-conscious.
9.
Wet wipes

This item is an essential part of motherhood, even after you've said goodbye to diapers. Pack the baby wipes for your next picnic outing to use as hand wipes to wipe up little sticky fingers and faces, or to wipe up a drop of ranch from your own shirt.
10.
Bug repellent

I don't know about you, but I don't enjoy my food if I'm the food of another creature. I don't like bugs, and you better believe I'm packing our California Baby bug repellent. It has natural ingredients, which is great not only for small kids, but it also will not have the harsh smell that can be a problem when you're eating.
11.
Sunscreen

We always remember the sunscreen when we go to the beach on a summer day, but we may not think to bring it if we're at the park. If you're having a summer picnic or during warmer weather and your kids will be out in the sun for longer than an hour, bring the sunscreen to keep them safe from the UV rays.

We've been using Babyganics sunscreen for years, even for adults. It works great and doesn't irritate little eyes. Don't forget to reapply if your outing lasts longer than 2 hours.
12.
Activities

Bring fun activities for the kiddos. For toddlers and preschoolers, pack bottles of bubbles, and if there's a place where they can use sidewalk chalk, take that too.

For school-aged kids, take the frisbee or a set of badminton rackets. A ball is great for all ages. Ask your kids for other outdoor activity ideas.
13. First Aid kit
This is a "just in case" item, but it's important to take with you if you'll be picnicking a little ways from the car. Simple essentials like bandaids and disinfecting cream are all you need for minor scrapes.
14. Thermos
I love my hot tea and enjoy sipping it after a meal. If you're not into tea, make some coffee and take it with you. It'll be your little treat to enjoy as you watch your kids play. If you bring a thermos, don't forget to pack a cup. I like to bring my insulated tumbler.
15. Trash bag
Don't forget about cleanup. You will likely not want to have a picnic right next to a trashcan, and that can make for a longer cleanup in you don't have a bag to put the trash in. You probably won't need regular trash bags, a couple of plastic bags from the grocery store will do.
16. Extra clothes for kids
After you spend half the day planning and packing for a picnic, the last thing you want is to pack up early because your active little child spilled apple juice all over herself. Add extra clothes to your family picnic packing list for accidents like this.
The rest of the list includes the extras that may not be necessary, but are nice to have.
17. Insulated bag
If you're planning to spend more than an hour or two at the park, take an insulated bag or a picnic cooler to keep the drinks and food cool.
18. Ice packs
Add a couple of refreezable ice packs to your insulated bag to help keep the contents cool. If you don't have ice packs, put a couple of bottles of water in the freezer the night before your outing. The bottles will do the job, and you'll have extra water on hand if you run out.
19. Food cover
Covering the food from the tiny flying creatures will keep you from constantly shooing the bugs away. If you don't have a mesh food cover, use a paper towel.
20. Plastic top seal bags
Take a couple of plastic top seal or zipper bags to pack leftover sandwiches, or to store the kids' little souvenirs they find at the park.
21.
Bluetooth speaker

If you love music, pack this nifty little gadget and add a little "Sunshine Reggae" to your day. This speaker is small, inexpensive, and will do the job well.
22.
Umbrella

Pack an umbrella in case you can't find a shaded area for your picnic.
23.
Flashlight and glow sticks

Having a flashlight on hand is helpful if you plan to stay out after dusk. Glow sticks are a fun way to give the kiddos something else to play with, adding more excitement to their day.
Extra picnic tips
1. Don't forget to check the weather before you plan the picnic. If there's wind or rain on the horizon, plan accordingly, have a backup plan or move the picnic date to avoid the extra stress.
2. Here's a pro tip: before you set up, look to see where the bathrooms are. Kids love exploring new places, and small children may wait until the last moment to let you know they have to go. Know exactly where you'll "run for it".
3. Take pictures. Making memories is an essential part of childhood. Taking photos to capture those memories will make them last much longer in your memory. Get in the pictures with the children. Looking back after your kids grow up, you'll love seeing your own face next to theirs. To read about the importance of getting in the photos with your children, head over to What Most Moms Aren't Doing and Why They Should.
Have a picnic once in a while, it's an easy way to spend some quality time with your family. Even better, make a day trip out of it an explore and new town or a park. You just may find your new favorite picnic location.
I hope you find this family picnic packing list helpful.  
Related Posts:
---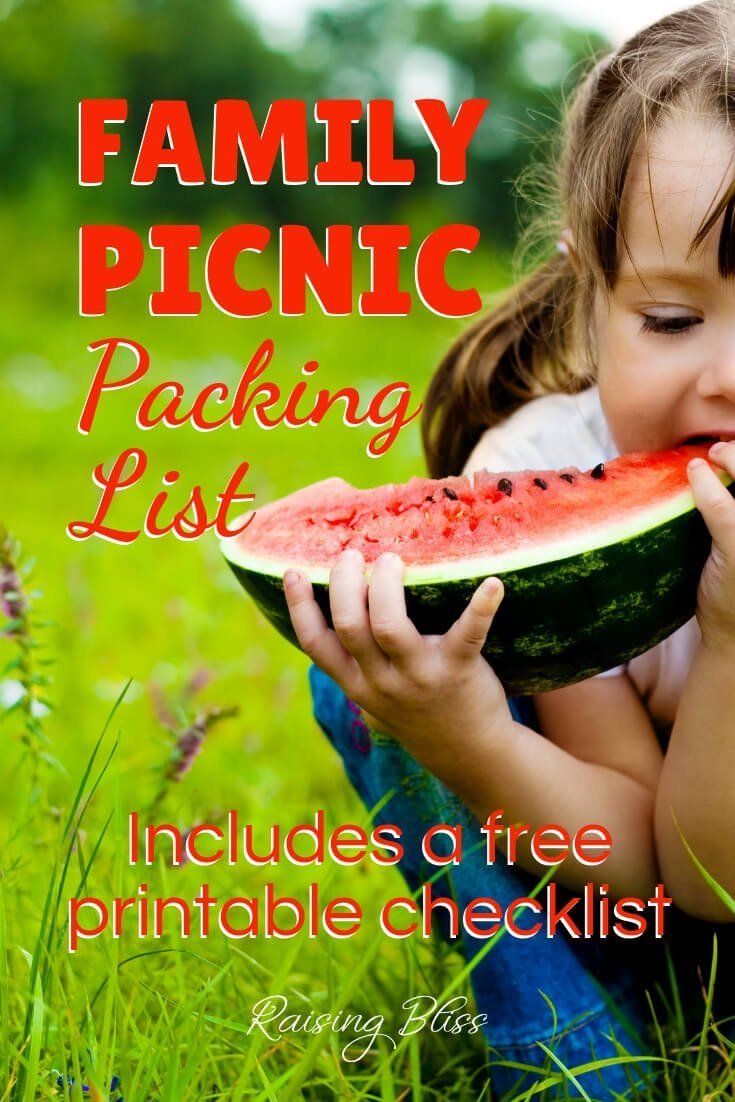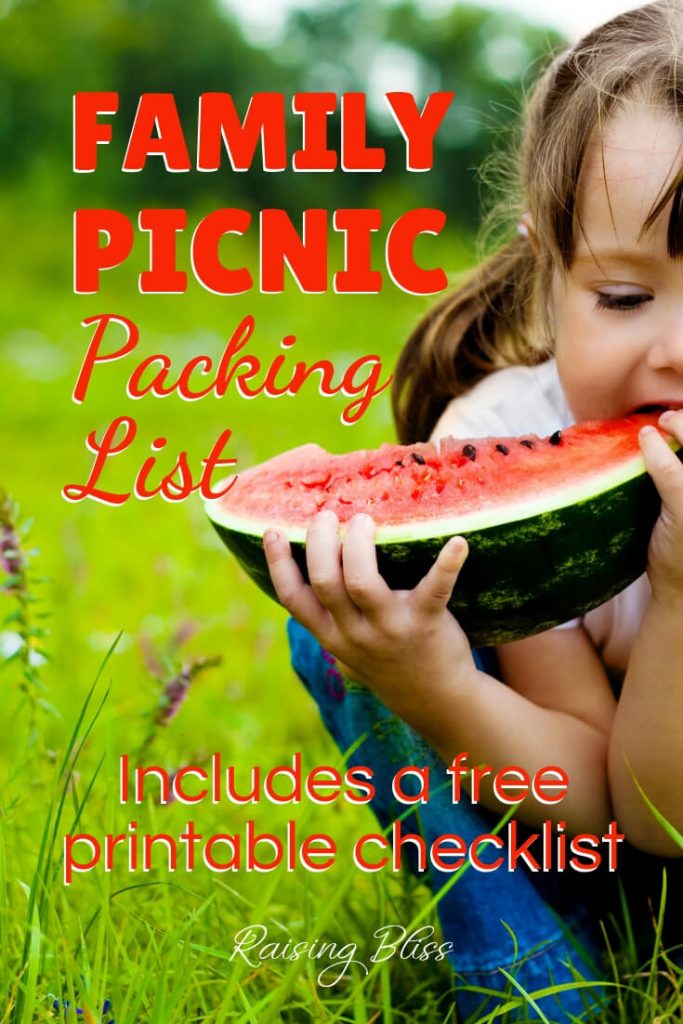 Family Picnic Checklist