What to Put on Your Baby Registry
Inside:  What things to add to your baby registry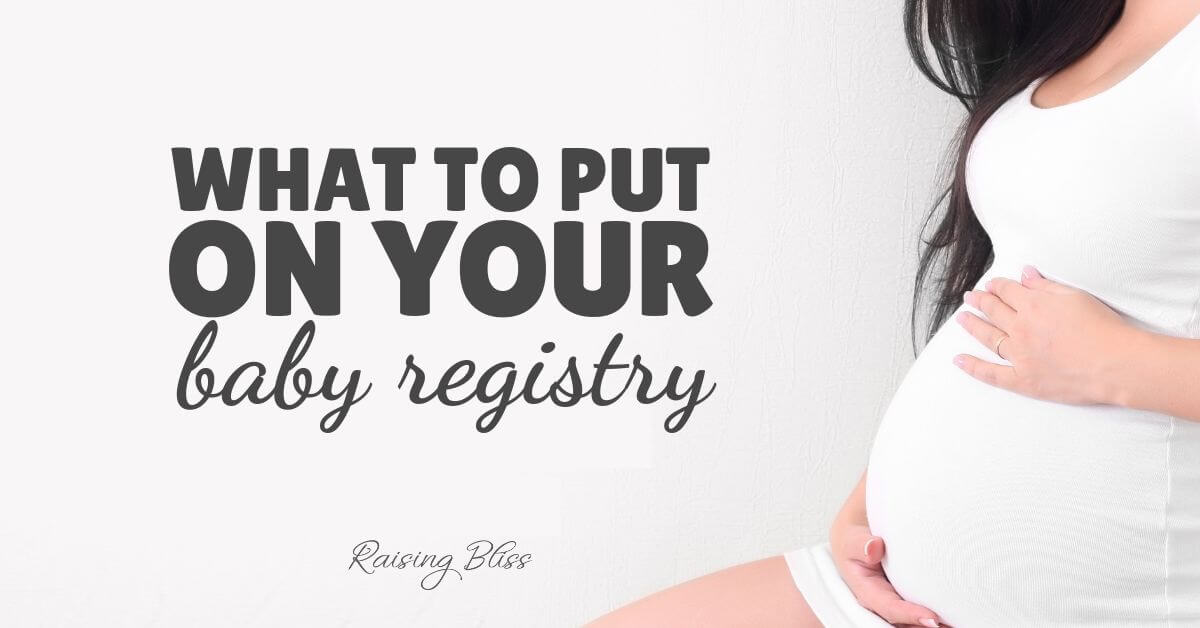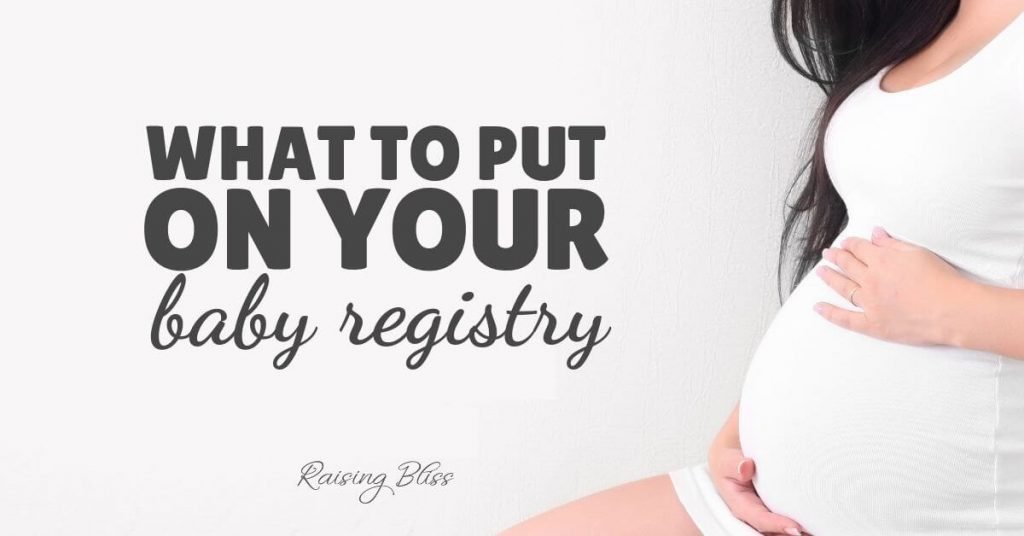 Things you need on your baby registry, why you need them, and other tips.
First of all, if you're expecting your first baby, I want to CONGRATULATE you on your little peanut and WELCOME you to the amazing tribe of motherhood!
Your life is about to turn upside down in the best way possible. All the planning and preparations ahead can get overwhelming, even though this time is so exciting. Let me ease the stress a bit and provide you with a list of things to put on your baby registry.
Ready? Let's dive in.
Car seat
We had twins first, and we needed to make sure that the infant car seats would fit next to each other in a narrow Nissan SUV. This is why we picked our car seats based on width. When you choose one for your baby, consider your vehicle's interior space, and the weight of the car seat. According to Dad Fixes Everything, infant car seats weigh anywhere from 10 to 20 pounds. Even though 27 pounds (car seat + baby) may not seem that much, babies grow, and you can easily end up carrying a 40-pound car seat with your precious babe in it, plus grocery bags. This post contains affiliate links. This means if you make a purchase after clicking a link, I will earn a small commission, but it won't cost you a penny more.  Click here to read my full disclosure policy.
Stroller
When you pick a stroller, make sure it fits in the trunk of your car. We love our Bumbleride all-terrain stroller.  The tires are air-filled, it has a smooth ride, the front wheel locks for jogging, and it's compatible with Peg Perego, Nuna, Cybex, Maxi Cosi, Chicco and Graco car seats. If you love stroller bassinets, there is a Bumbleride bassinet available separately.  It's perfect for evening neighborhood strolls. A stroller bassinet is a nice-to-have rather than a must-have. Bonus tip: if you have a compatible car seat, your grocery store trips won't require as much muscle work. All you have to do is secure the car seat on top of the stroller, and you'll be good to go.
Baby carrier
I've had numerous baby carriers with all five of our kids, and LILLEbaby carrier is by far the best. It's comfortable, distributing the weight evenly across your shoulders and your back, which is ah-mazing for long walks and outings, it's a must-have for your baby registry. The all-seasons carrier is made with soft mesh material, which minimizes the baby (and yourself) getting too hot.
Crib
Baby needs a bed. Even if you plan on co-sleeping, there will come a point when you'll need him to move into his own night-time space. With the crib, you will need the following:
Firm mattress
2 Waterproof covers
2-3 Crib sheets
Automatic baby bouncer
If you get no other gear, get the automatic baby bouncer. All 5 of our babies loved it, and it freed up my hands to tend to the rest of the kids (and the husband). The usual bouncers vibrate and only bounce with baby's movement. This one has a bouncing function plus calm music, which soothed my babies and put them to sleep when they were sleepy. We love love love this bouncer.
Playpen with bassinet and 2-3 fitted sheets
We had a playpen in our bedroom for the first few months after our babies were born. They had their own beds, and they were within mama's reach if they needed me. The playpen served us well beyond the bassinet function. It went with us outside and on picnics to serve as a playpen for baby, it went traveling with us and served as a portable crib. It's versatile and meets many needs. Don't forget fitted sheets for the bassinet, 2-3 should be plenty.
If you have room for more baby gear, you can add the following to your baby registry:
Baby gym
Baby swing
Door bouncer
Rocking Chair
A rocking chair is one of the nursery necessities. Even if you plan on teaching your baby to fall asleep by herself, the rocking chair will come handy for feedings, morning cuddles, and evening reading.
High chair
Although you won't need it for a few months, a high chair is one of the essentials.
Mosquito net
Getting fresh air is essential for both you and your baby. But if bugs and mosquitoes join you on your stroll, calm evening walks can turn into stressful runs toward the house or the car accompanied by baby cries. Add a mosquito net to your registry to put over the car seat, stroller, bassinet, or a playpen, and enjoy the outdoors without worrying about your baby being bitten by flying creatures.
Diapers and wipes
Don't forget to stock up on diapers but remember, babies grow fast, so add different diaper sizes to your baby registry. As far as wipes – they will be your best friend for years to come. You'll use them not only to clean the little bottom, but also to clean up sticky hands and faces on the go, and other baby messes.
Diaper cream
We are out of diapers now, but we loved Boudreaux's Butt Paste for all five of our kids.
Diaper bag
Look, no-one says that your baby bag needs to be a diaper bag. If you have a tote with lots of pockets, great. If you find a bag you love that will also store all the baby essentials on the go but isn't necessarily classified as a diaper bag, go for it. Don't let the term "diaper bag" box you in and limit your choices. But if you're up for proudly carrying a true diaper bag, this backpack gets rave reviews and looks good, too.
Feeding essentials
If you plan on breastfeeding, add the following to your registry:
Breast pump
Breast pads
Nipple cream
Milk storage bags
Breastfeeding pillow
Bottles (just in case)
When your baby is home with daddy and your post-partum OB appointment takes longer than expected, you'll be glad to have a breast pump on hand. Trust me, breasts full of milk and no way to relieve them is no walk in the park. Not to mention, you'll have to leave your babe with a supply of mama's milk. Put that breast pump on the list. A manual pump will be just fine if you plan on breastfeeding for nearly every baby meal. But if you plan to be away from your baby periodically, or in case he completely refuses to latch on (this was the case with my twins), you'll want to add an electric breast pump to your baby registry.
Fair warning, the first few weeks of breastfeeding will be hard. Your baby needs to learn a good latch, your breasts need to adjust to constantly inflating and deflating, and your nipples… well, sometimes you will feel like you have a dinosaur at your breast and not a toothless baby. Put a nipple cream on your baby registry to help ease the pain. The pain will subside soon enough.  All the effort will be worth it, so don't give up!
This breastfeeding pillow is the absolute best! It buckles around your waist and helps support your baby and your arms. When I breastfed my fifth, I was able to tend to the rest of the kids with this pillow around my waist. The baby rested on the pillow on her side right next to the food source, and I held her close with one hand, leaving the second hand free to help the boys.
If you don't plan on breastfeeding (or are unable to breastfeed), you'll need bottles (glass is best) and formula.
Bottle brush
You'll need a bottle brush or two to easily wash the bottles and breast pump attachments.
Bottle drying rack
If you plan on breastfeeding and doing minimal pumping, you may not need a bottle drying rack. But when you have bottles upon bottles upon breast pump attachments, it helps to have a place to keep them contained and upside down when wet.
Baby spoons
When your baby is 6-8 months old, time will come for him to begin discovering new foods. Teaching babies to eat by themselves helps develop fine motor skills and independence. When you feel it's time for your babe to try real food, these bendable baby utensils are super comfortable and easy to use. It's hard for little kiddos to maneuver a straight spoon into their mouths, using a bendable spoon will make it much easier. The great thing about these utensils is whether your baby prefers to eat with the right hand of the left, the spoon bends either way to accommodate his preferences.
Shatterproof plates
Silicone suction plates are also a must-have for your baby registry, because not only are they shatterproof, but they also stay put on the table. Babies like to throw things, and seeing a plate fly across the kitchen like a frisbee happened to many a mom. Prevent watching a similar scene by adding silicone suction plates to your baby's registry. And hey – babies are little geniuses, if your child figures out how to break the suction and throws the silicone plate across the room, it won't hurt the dog.
Fruit feeder pacifier
Babies grow fast and they become interested in table food before you can say, "Can mama have a day off?" Introducing babies to fruits is easy with a fruit feeder pacifier. The little holes on the tip of this feeder only let smooshed food out, so there's no risk of choking on fruit pieces. It may even keep the baby occupied long enough so you can stretch your legs and actually finish your cup of coffee while it's still hot.
Baby monitor
If you don't plan to be attached to your baby 24/7, a baby monitor will be your best friend. You can paint your toenails without running to the nursery door to listen for her cries. Or her breathing. You may be tempted to open the door to check if she's breathing and might end up waking a perfectly sleepy babe. (This is so me!) Get that baby monitor on your registry list and relax when you have a chance.
Going home outfit
I'm a sentimental mama, and I kept every one of my kids' going home outfits. I store them in a baby box together with their hospital metrics, bracelets, and other memorabilia. Put two going home outfits on your list. You'll want a backup, because, well, baby messes are real.
Other clothes
Babies grow fast. So fast, that they'll be out of their newborn clothes before you know it. For this reason, don't add too many newborn clothes to your list. So what to put on your baby registry then? Instead of lots of tiny outfits, add different sizes of clothes up to 24 months. That way, you'll be all set with essential clothing for 2 years. Here's what I recommend putting on your baby registry.
Footed pajamas (4-5)
Onesies or bodysuits (6-8)
Socks (6-8 pairs)
Mittens (3-4 pairs)
Hats or Bonnets (2-4)
Repeat the list for sizes 0-3m, 3-6m, 6-12m, 12-18m, and 18-24m. Remove items that you would not need for the next age group. For example, there is only one mitten size, and it's for newborn babies to prevent scratching their face. By 3 months or so, they will no longer need them as they will learn to control the movements of their hands.
There is a difference between clothes that are Newborn size and 0-3 months size. The newborn size is smaller, and will generally only last your baby 4-6 weeks. Some babies don't fit in newborn-sized clothing at all and need 0-3 month size right away, and some may need preemie-sized clothes.
My advice on baby clothes essentials is this. If you add nothing else to your list, add the footed pajamas and the onesies. They're the comfiest for your babe, and won't ride up to expose their back or belly and risk getting too cold. Also, when baby blowups come on the scene, you'll be glad he has a bodysuit on to contain the mess.
Fleece bodysuit
A fleece bodysuit is a one-piece baby suit for cooler days. It's super easy to put on and take off your babe. It's soft and comfy, and it keeps him warm on breezy walks.
Baby snowsuit
If you're a resident of a warm part of the world, you don't need to worry about this one. But if you live in a place with frosty winters, you may want to add one snowsuit to your baby registry. A snowsuit will keep your baby warm in the frigid weather on winter walks. If you're having a summer baby, add a snowsuit in a 3-6 or 6-9 month size to your baby registry.
Bibs (8-10)
We used bibs a lot with our babies. Although most of our kids didn't get teeth until 11 months, they all started drooling at 3 months, and the bibs were the savers of many outfits. Switch out the bib, and you're good to go.

Receiving blankets (4-8)
These soft flannel blankets will serve you well. You can use them to cover the sleeping baby while you're out and about if the weather gets breezy, you can use them as reusable changing station liners, you can use them to clean up big spills, and so much more.

Muslin blankets (4-6)
Throw one over the car seat while the babe snoozes away, swaddle your baby with it, or throw one over your shoulder if you want privacy when you breastfeed. Muslin blankets are soft and breathable, and lots of tiny tots adopt them as their lovies. Yours might, too.

Burp cloths (6-8)
You'll need burp cloths to protect your clothing from baby spit-up while burping your babe. They do their job well, but if you are inclined toward minimalism, skip the burp cloths and fold a receiving blanket to throw over your shoulder instead.

Warm blankets (2)
Have a couple of warm blankets on hand to cover the baby when it's cool out, or when you're in grocery stores, no matter the season. We love cotton, here's a handmade crochet cotton baby blanket that's made by yours truly.
Bathtub
We loved the bathtub that fit over our kitchen sink. Our kitchen faucet has a shower setting, and it was perfect for little baby baths. We fit the tub over the sink, making sure the excess water dripped down into the sink and not the countertop, turned on the faucet to the perfect temperature and stream, and voila. Baby got a perfectly warm bath, mommy didn't have to bend over the bathtub, and the cleanup was easy.  This blooming lotus bathtub is another one to use in the sink, although I haven't tried it myself, I hear great feedback on it.

Baby soap
The jury is still out on whether you need to wash your newborn with soap every bath time. Some say a rinse with water will clean them up well enough, and that soap can strip the baby's skin of the healthy oils they need. Whether you're in one camp or the other, having soap on hand is helpful, if only to make little bottoms squeaky clean after a blowout.

Muslin washcloths
Muslin material is very soft, absorbent, and gentle on baby's skin.

First aid kit for baby
A baby first aid kit is another necessity for your baby registry. These kits usually include essentials like a baby thermometer, nail clippers, nasal aspirator, and a brush.

Nose Frida
I'll be honest, Nose Frida scared me when I first learned about it. I couldn't imagine doing what the lady in the picture did. But after our 4th baby was born, I decided to see what all the hype is about and caved in. Let me tell you, it's the best thing when baby has a runny nose. I've used it for our last two babies, and it's so practical. It gets all the icky boogies out in a jiffy, and you don't have to worry about any of it going too hight up the tube. It works amazingly well!

Gripe water
We used Colic-Ease Gripe Water, and it was magic for our babies. It can be used for colic, gas, hiccups, and general fussiness.

Pacifiers
We love pacifiers. They are the go-to soothers of crying babes. After breastfeeding, I gently unlatch a sleepy baby from my breast and replace the void with a pacifier. It helps them fall asleep quickly without getting upset.
Pacifier clips (2-4)
If you plan on using pacifiers, you can't forget to add pacifier clips to your list. Most likely you won't need them for the first couple of months, but as your baby learns to hold up his head and take the paci out of their mouth to throw it around (because it's fun, you know), you'll be glad to have a pacifier clip on hand. They're especially useful in public places where you don't have to worry about the pacifier falling on the floor. Instead, it dangles safely clipped to your baby's shirt.
Changing pad
Having a baby changing station with a changing pad at home is helpful. As an alternative to the changing pad, you can get a couple of waterproof pads. they take up much less space, and you can use them for potty training later.

Travel changing pad
A travel changing pad is an absolute necessity. When you're out and about, you don't want to put your newborn baby down on a public baby changing station, even if you line it with a receiving blanket. Having a travel changing pad eliminates anti-sanitary concerns and gives your babe a softer surface to lay on. Line your changing pad with a folded receiving blanket for more warmth and comfort, and to catch any accidents while you're changing the diaper. This travel changing pad has pockets for wipes, diapers, and baby bottom cream. All you have to do is unfold it, and everything you need is at your fingertips.

Gentle laundry detergent
Babies have delicate skin, and using a gentle laundry detergent will minimize skin irritations. Use it on your baby's laundry for the first few months, after which you can start using your regular detergent. Watch for changes on your baby's skin, and switch back to gentle detergent if needed.

Where to create a baby registry
Picking the right place to register can be a challenge. You can create your baby registry at Amazon, Target, or another baby store. But what do you do if one store doesn't have everything you need? Babylist to the rescue! You can combine multiple baby registries, add other items from specialty stores and platforms like Etsy, and it's easy to use for you and the gift-givers.
There you have it, a list of must-haves to make your baby registry endeavors easy-peasy.
Related posts: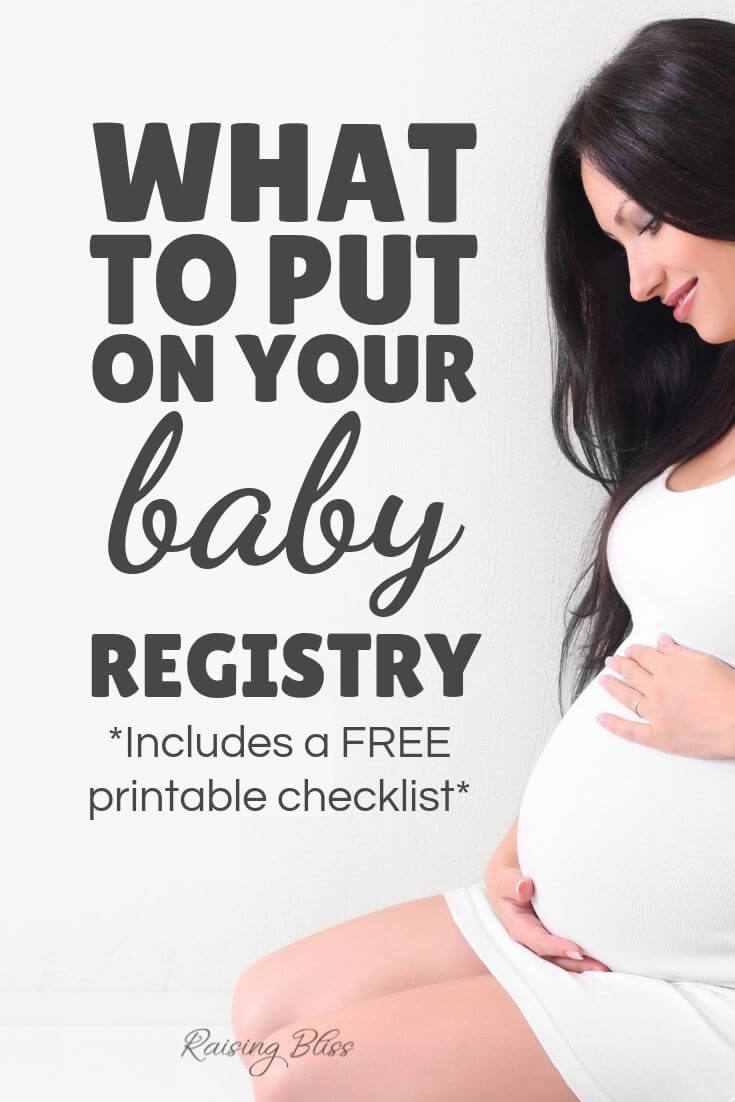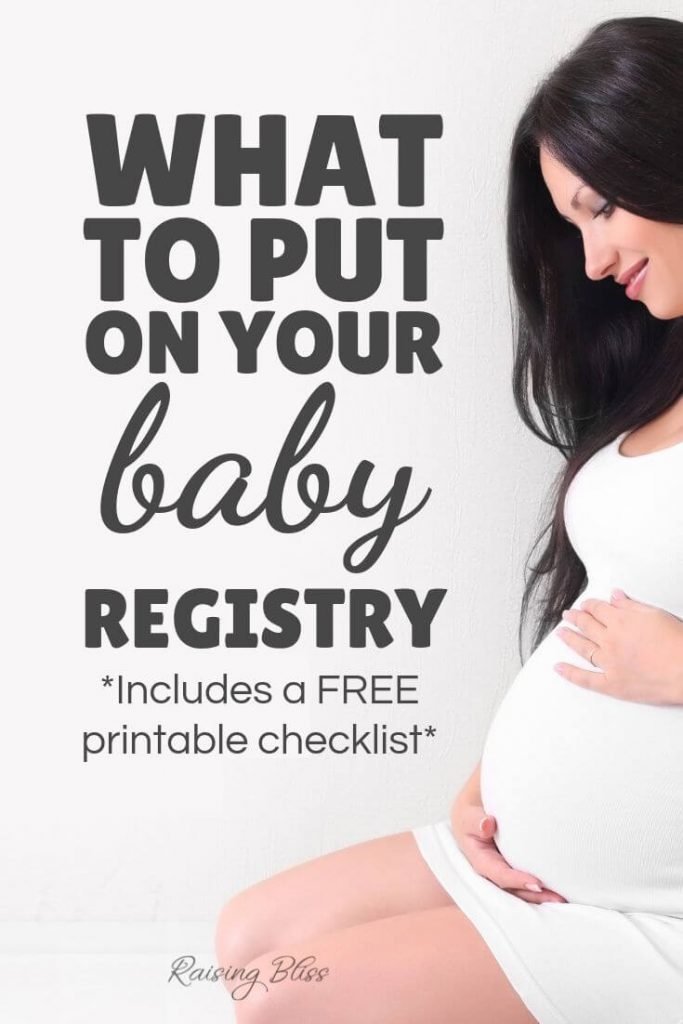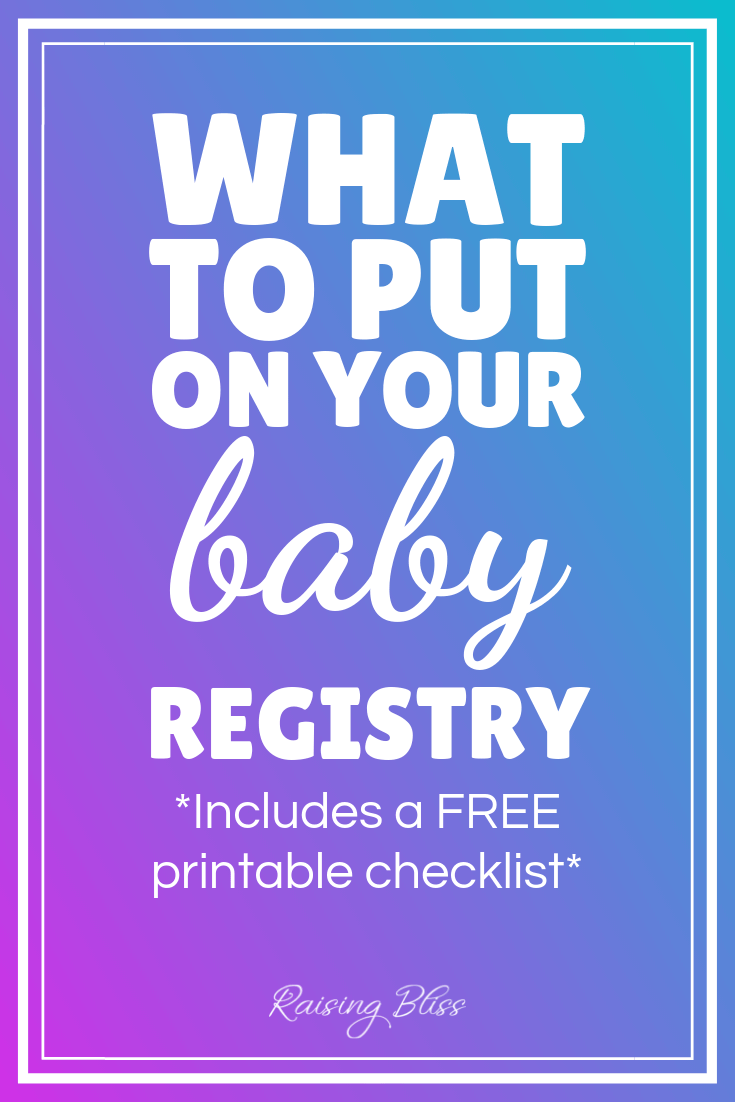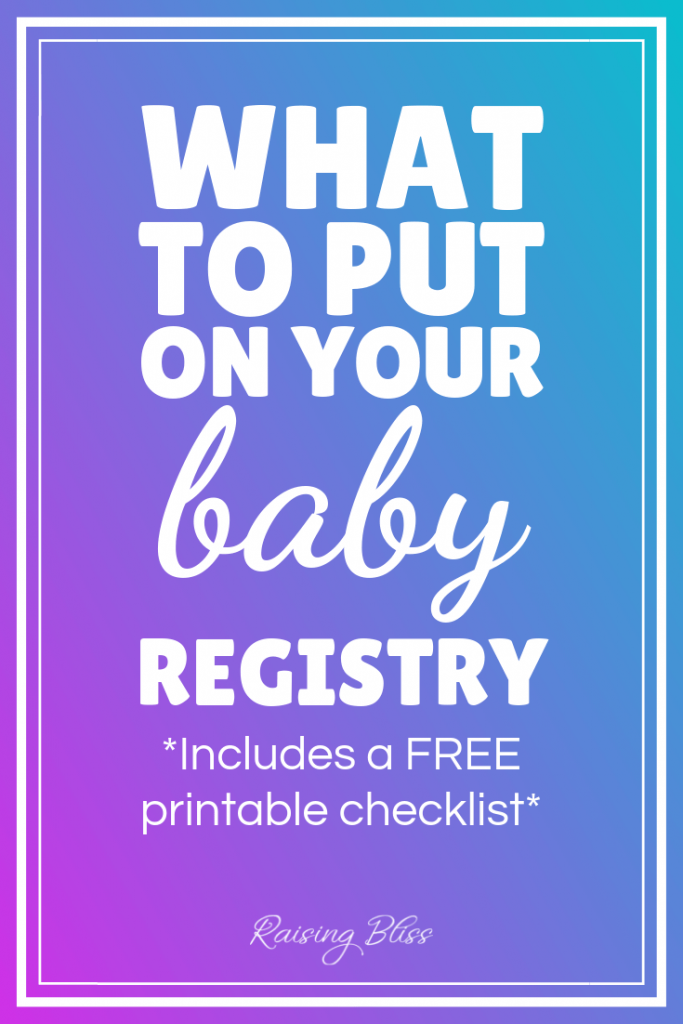 What to put on your baby registry