Meaningful Gift Ideas for a Friend Struggling With Infertility
Inside: Supporting a friend struggling with infertility with a meaningful gift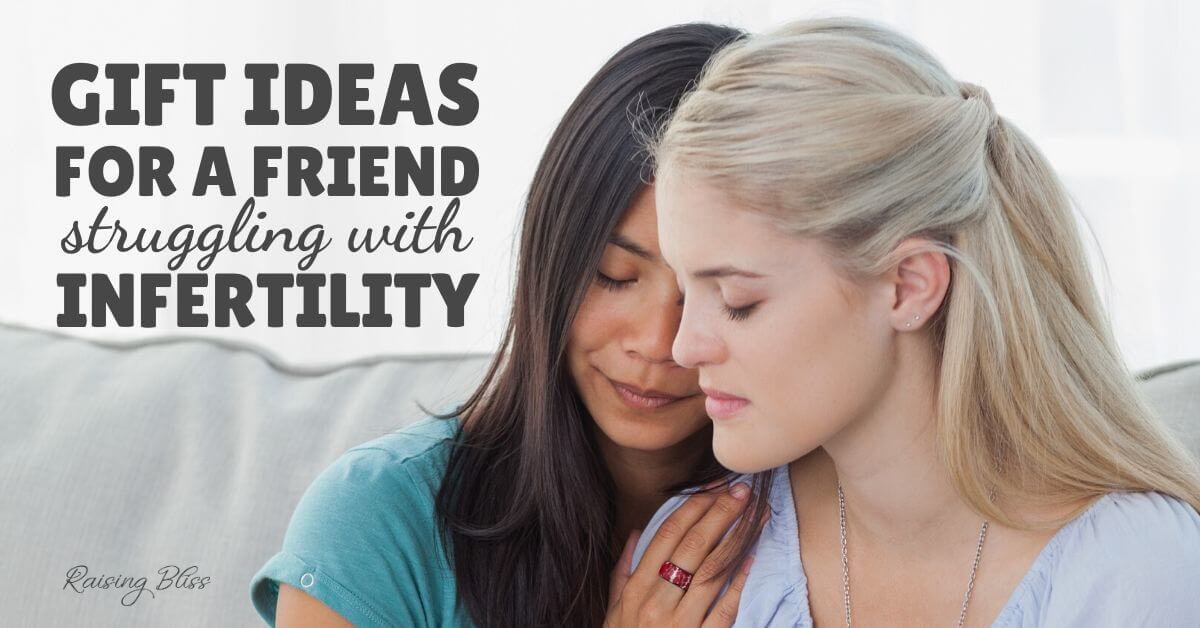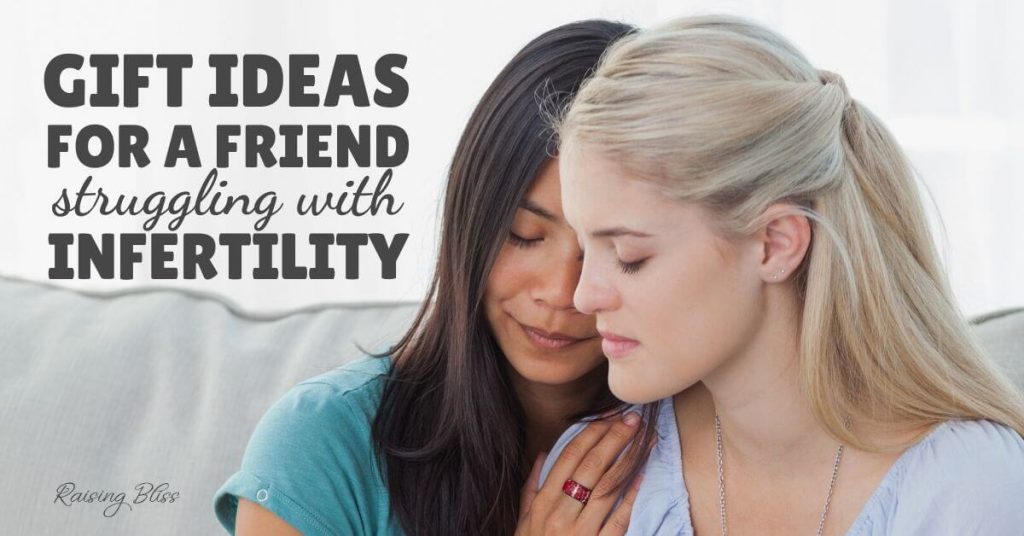 You have a friend, and she's pretty great. But she's going through something tough. She's having a hard time conceiving, and you want to be supportive.
You want to offer encouraging words, but sometimes it's hard to find what to say to a friend or a family member who's trying to conceive. To get a glimpse into what's going on in the world of someone with infertility, read what not to say to a friend who's trying to conceive.
The infertility journey is often long. It may include lots of doctors' visits, medication like a follicle-stimulating hormone, pregnancy loss, a surgical procedure, in vitro fertilization (IVF treatment), and other infertility treatments.
To support your friend you can simply be there for her, listen when she needs to talk, be supportive, and pray for her.
But sometimes you might want to do something more. You might want to get your friend a gift that will let her know that you're thinking of her and her challenge to become a mother.
You may not think that your friend needs a daily reminder of their struggle in the form of a gift, but trust me, she's already thinking about it every day. Giving a thoughtful gift is a simple way to help her feel comforted and supported.
This post contains affiliate links. This means if you make a purchase after clicking a link, I will earn a small commission, but it won't cost you a penny more. Click here to read my full disclosure policy.
What to get a friend with infertility
A pair of baby booties or a cute onesie may not be the best gift for your friend just yet. The ideas for trying to conceive (TTC) gifts below were curated for the sole purpose of supporting someone who's trying to get pregnant. In an effort to encourage them, and to help them not loose fertility hope.
Meaningful gift ideas for a friend struggling with infertility
A Willow Tree Angel is a gift to comfort and encourage hope for someone who's having a difficult time getting pregnant.
"Not Pregnant" – A perfect gift for a hopeful mother that provides emotional support as she struggles with infertility.
"Hope Anchors the Soul" water bottle is a great reminder to hold on to hope for someone who's trying to get pregnant.
"The greater your storm, the brighter your rainbow" keychain may be just the type of gift your friend needs to be inspired to keep going.
"The best view comes after the toughest climb" – This piece of jewelry is an inspirational mountain necklace, and it's another great gift for a friend struggling with infertility.
"Mama in the making" t-shirt. A great gift if your friend is open about her fertility journey.
"A true friendship is a journey without an end" – This jewelry dish will remind your friend that you will always be there for her.
"You are unbreakable, wise, courageous, brave, and strong" supportive necklace for a friend trying to conceive.
"You are braver than you believe, stronger than you seem, and smarter than you think" encouraging phrase glass coffee mug is another great infertility gift idea.
"Don't forget how strong you are" inspirational keychain gift idea for a friend struggling with infertility.
"Faith can move mountains" motivational cuff bracelet to support a friend trying to get pregnant.
"In Due Time" – A very good book in the form of a devotional of hope and encouragement for a couple having infertility troubles.
Here's another great idea for a gift. Chose what you think are the best infertility gifts from this list and put together a care package or a gift basket for your friend. Add in a gift card, her favorite coffee, snacks, a few bath bombs, a blend of calming essential oils, and a cozy throw in her favorite color.
Addding a card with a couple of inspirational quotes written inside is also a great option. You can choose quotes that speak to your heart from the list of quotes below. Your thoughtful gift ideas will make for the best gift for your dear friend.
15 inspirational quotes for infertility
"Even miracles take a little time." – Fairy Godmother, Cinderella
"The longer you wait for something, the more you'll appreciate it when you get it. Because anything worth having is definitely worth waiting for." – Susan Gale
"There is purpose in your season of waiting." – Megan Smalley
"Sometimes the struggle is what makes success even sweeter." – Anonymous
"Strong women aren't simply born. They are made by the storms they walk through." – Anonymous
"Life is tough, my darling, but so are you." – Stephanie Bennett Henry
"A grateful heart is a magnet for miracles" – Jane Fuller
"Our greatest glory is not in never falling, but in rising every time we fall." – Confucius
"Most of the important things in the world have been accomplished by people who have kept on trying when there seemed to be no hope at all." – Dale Carnegie
"It's the possibility that keeps me going, not the guarantee." – Nicholas Sparks
"It's hard to wait around for something you know might never happen; It's even harder to give up when you know it's everything you want." – Anonymous
"It may not be easy, but it will be worth it." – Anonymous
"As long as there is the tiniest chance, I can't give up." – Anonymous
"It always seems impossible until it's done." – Nelson Mandela
"You are braver than you believe, stronger than you seem, and smarter than you think." – Christopher Robin, Winnie the Pooh
How to be a supportive friend
Spending time with someone who is in the midst of the infertility struggle is a great way to support them. Just being there for them is one of the best things to do and goes a long way in making them feel cared for.
Whether your friend just got the news that it won't be easy for her to get pregnant or she's on her third IVF cycle, she needs your support and care. Close friends can make a big difference. If she needs it, give her plenty of space. But be there for her as she waits for good news month after month.
She may have a hard time attending social functions like baby showers. It's especially hard for her to go through infertility during the holiday season. She sees all the family pictures with smiling kids, and she longs for one of her own. Be patient with her. Infertility is tough.
Maybe you know what it feels like not to be able to conceive or carry a baby to term. Maybe you don't. Either way, thank you for being a good friend. Thank you for encouraging and supporting those that feel helpless in their struggles.
Related Post: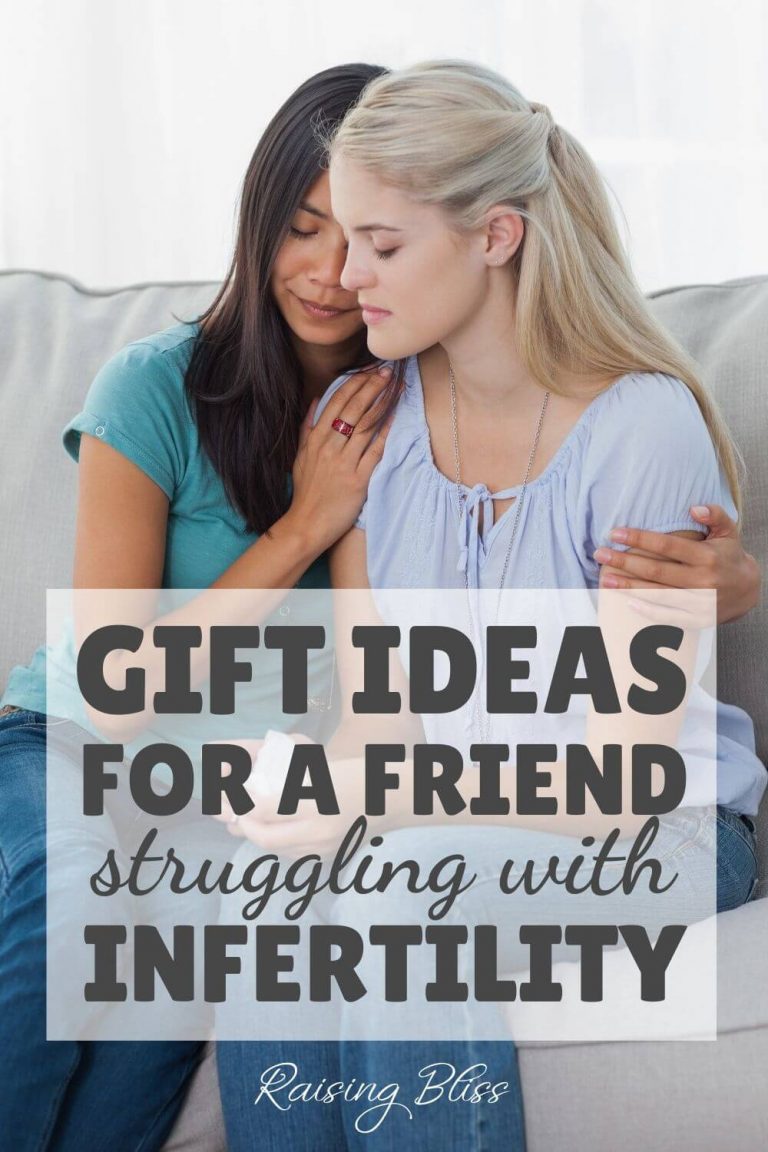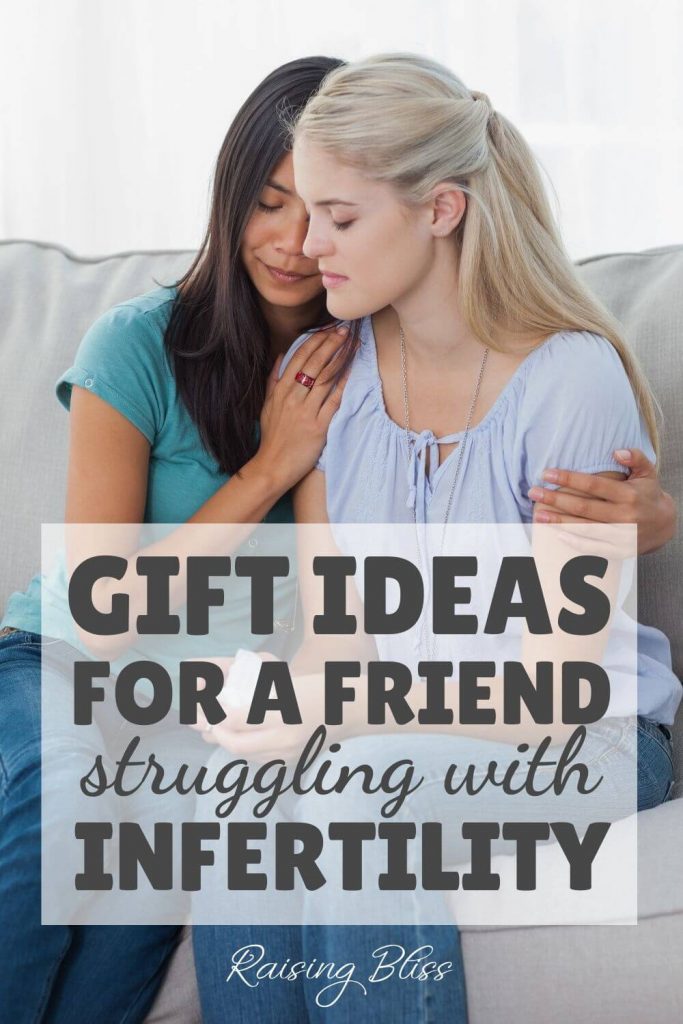 Meaningful Gift Ideas for a Friend Struggling With Infertility