10 Fantastic Reasons for Shopping Handmade
Inside:  Not sure about shopping handmade?  Here are10 fantastic reasons why you should.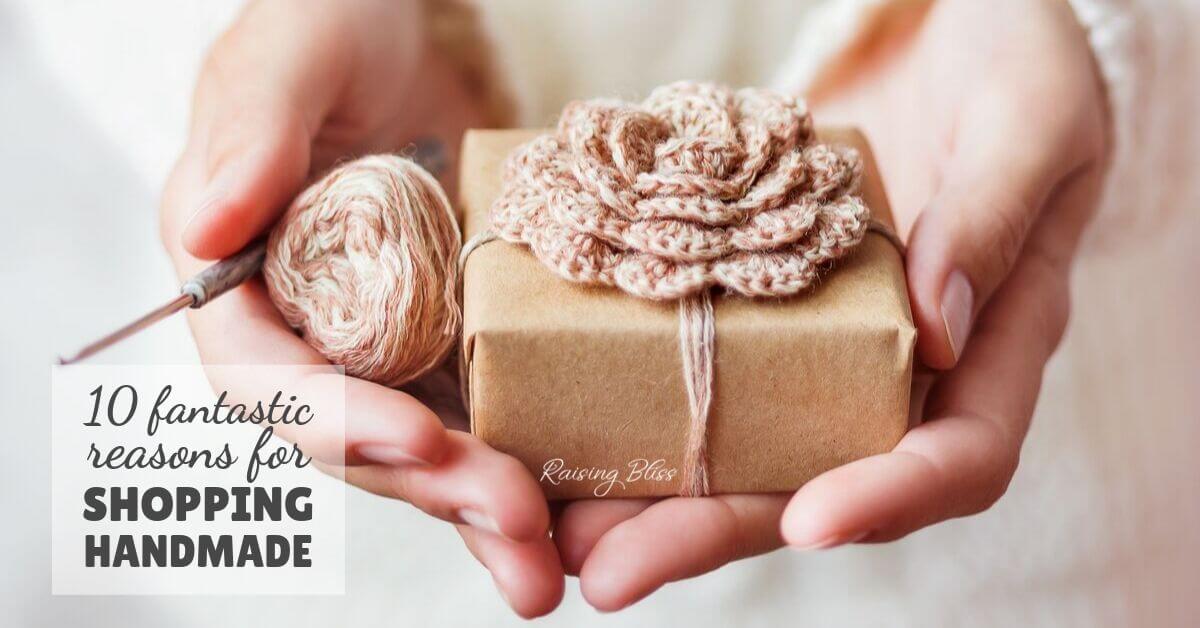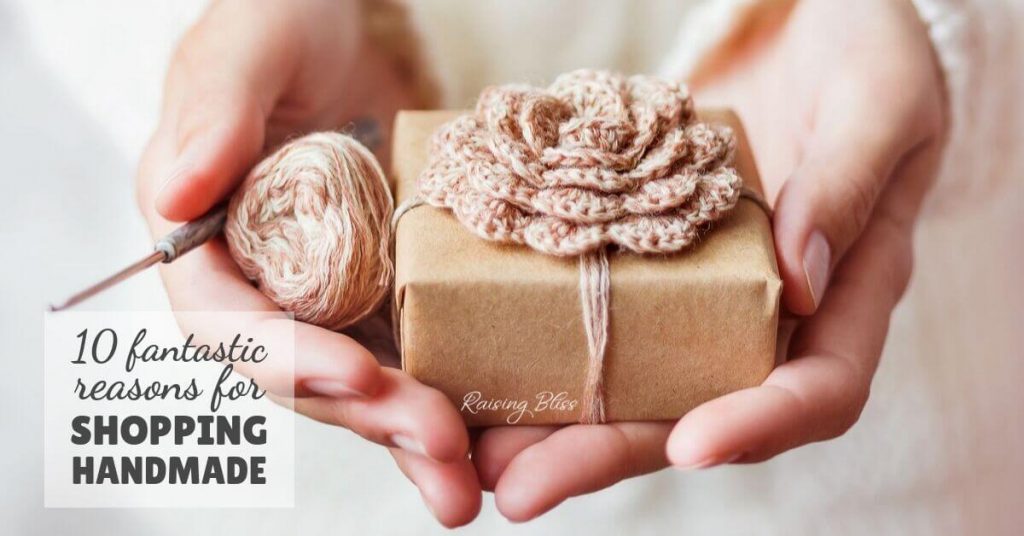 Our family loves to go to artisan fairs.  We love the food and experience overall, but our most favorite part is appreciating (and purchasing) handmade things made by local artisans.
Imagine you have a plate in your hand.  You're studying all the tiny shapes and colorful swivels painted on the face of it.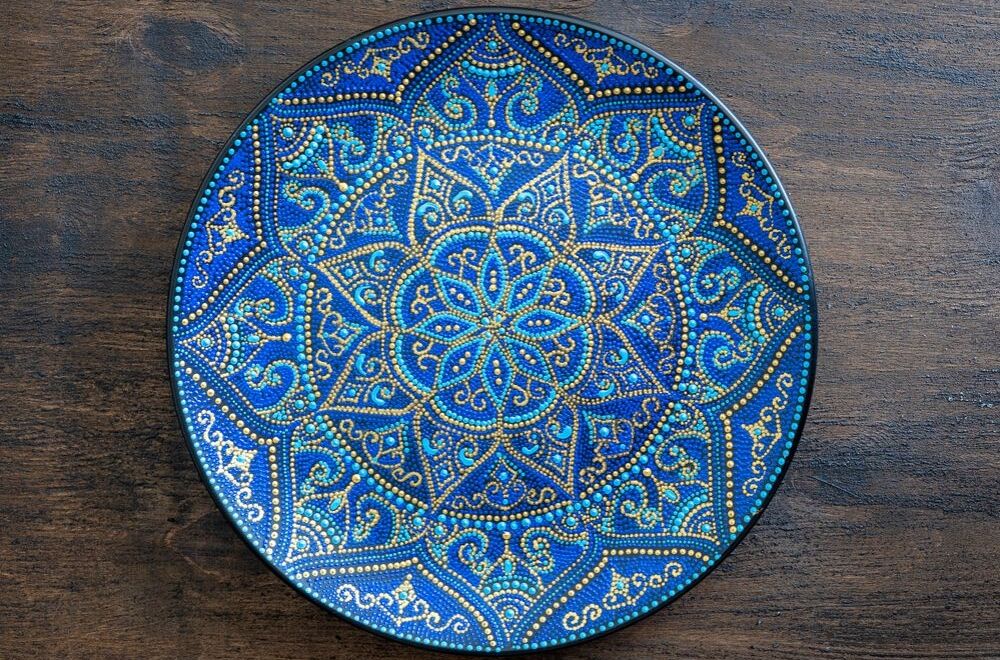 You may not be that into intricately painted plates, but when you're told that the plate is handmade and hand-painted, you do a double-take and begin appreciating the artifact in your hand.
The world of handmade is so much more than plates and wall art.  In any category you look, there are plenty of handmade selections that are not only of great quality, but they are also unique because they're not mass-produced. This post contains affiliate links. This means if you make a purchase after clicking a link, I will earn a small commission, but it won't cost you a penny more.  Click here to read my full disclosure policy.
So what's the big deal about handmade items?
Here are 10 fantastic reasons for shopping handmade
1. Unique finds
When you need to find a special gift, handmade items might just be what you're looking for.  Handmade things are unique and often the idea behind them came from a need that didn't have a solution.  
For example, mommies started making nursing necklaces by hand when they realized it was a great solution for a nursing baby's busy hands.  Mommies would wear the necklaces while breastfeeding, and that kept the baby's hands occupied on the necklace instead of pulling mama's hair and pinching her skin.  The mainstream manufacturers picked up on it later on, and even though you can see the nursing necklaces in big box stores now, the discovery came from a need that was solved by a unique idea.  
You can find amazing undiscovered and un-mainstreamed ideas when you shop both in person at craft fairs and artisan stores, or online at places like Etsy and Handmade at Amazon.
2. Quality and Value
Buying handmade generally means you're getting a higher quality item, made with love by hand, which makes it that much more valuable.
3. Personal shopping experience
Whether you shop for handmade items in person or online, handmade artisans love to make you feel special.  From carefully wrapping your selection to fun stickers on the package, care instructions, and even a handwritten thank you note, artisans love to make you feel important because you are.  Shopping handmade makes you feel like you're buying from a human, which you are.
4. You are supporting a real person and making dreams come true
I've never met an artisan that didn't love their craft.  All makers put lots of love and care into their creations, and a lot of them, as in my case, have dreamed of making a business of the craft they so love.  By shopping handmade, you are supporting long-time dreams and keeping them alive.
5. Customization
Whether you're looking for a gorgeous wall hanging with your family name on it, a baby blanket in a special color or your child's drawing made into a pillow, there's no better source of these options than a handmade shop.  When you shop online, sometimes it's hard to know if the artisan you've picked is up for the job.  If this is the case, ask them.  You can also read their reviews to get a sense of other shoppers' experiences with them.
6. You support skilled workers
Whether you're buying a hand-painted wood sign for your living room wall, a handcrafted necklace for your sister in law, or a handmade crochet bonnet for your newborn niece, you're supporting a skilled crafter and helping them keep doing the work they love.
7. Smaller environmental footprint
When things are made by hand they require less environmental energy.  Less machinery and less wasted material mean a greener earth.
8. Handmade items withstand the time
Have you ever seen your grandmother's chest of treasures?  Maybe there was a newborn baby's gown or white lace gloves in it.  Chances are, those items were handmade.  
Handmade items are perfect to become family heirlooms or items for a family time capsule.  Imagine keeping a handmade bonnet you brought your baby home in and reminiscing about the years past for years to come.
9. There is a story behind every handmade item
We all love stories.  Stories keep us going.  Whether it's movies, books, our family history, or our own story, every story is special and unique.  It's the same with handmade items.  Every artisan has a story about how the items they make came to be.  When you buy handmade, you become a part of something very special.
And last, but certainly not least,
10. When you buy handmade, an actual person does a happy dance
And if I can make someone do a happy dance and get an awesome handmade item while doing it, I'll take that!
This is why shopping handmade is better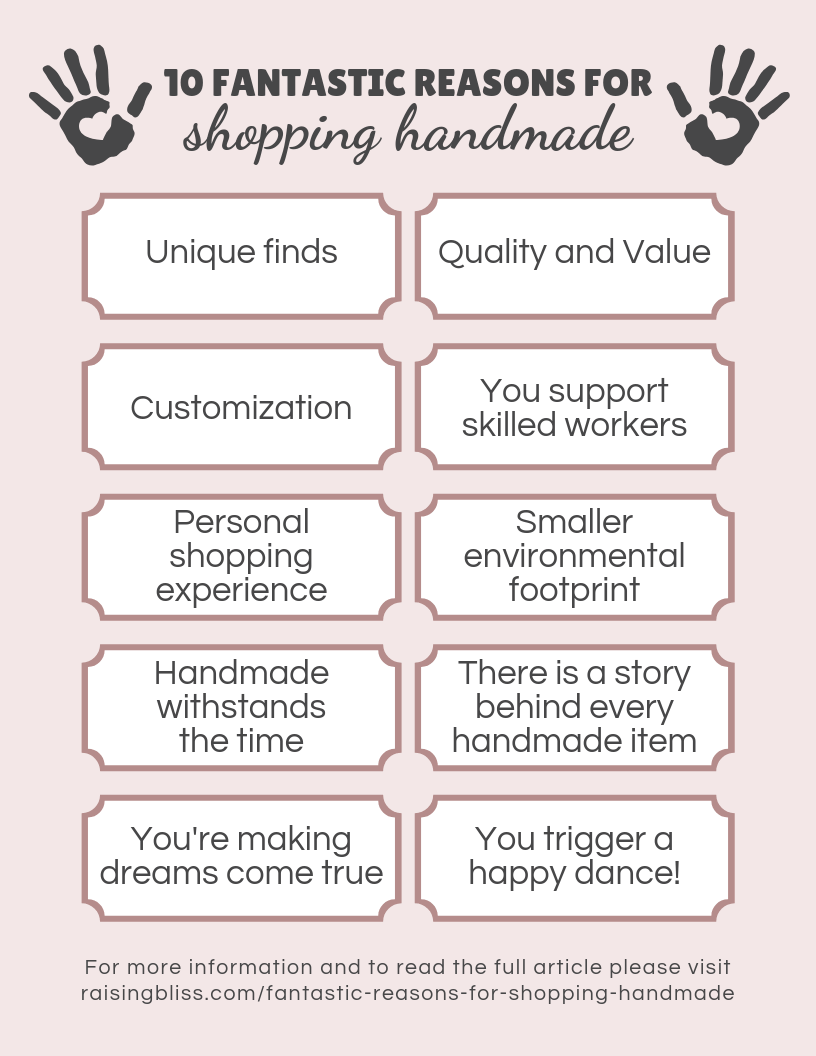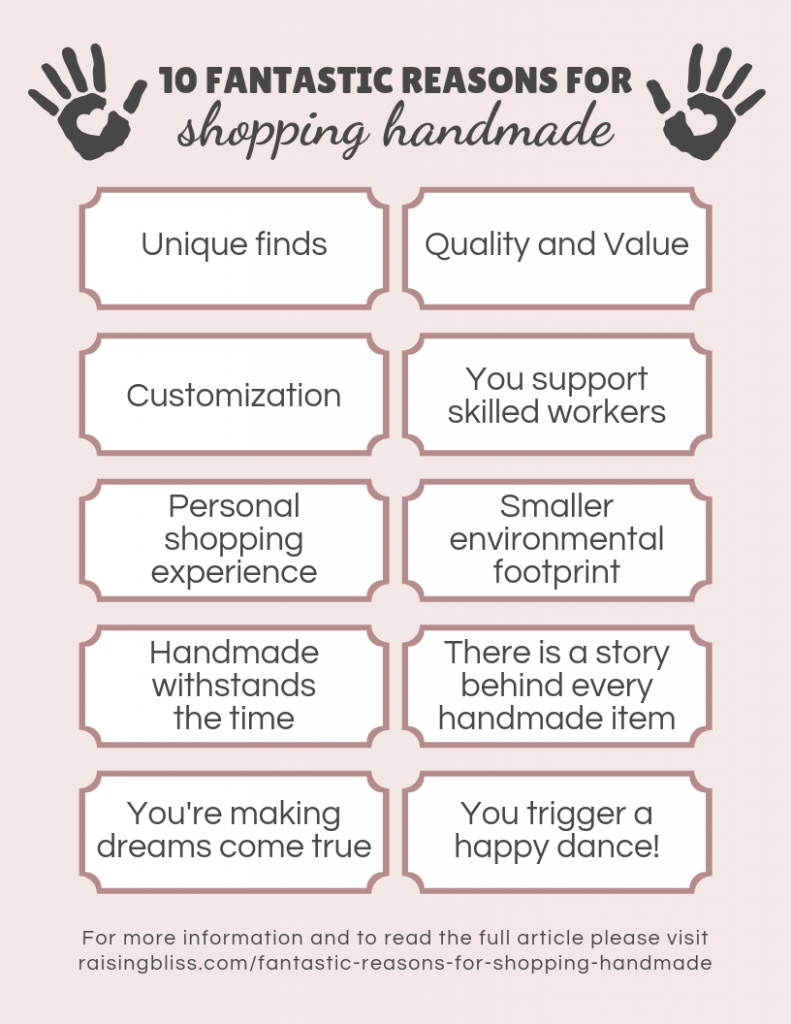 There is a quote making its rounds in the handmade world that says, "You can't buy love, but you can buy handmade.  And that's kind of the same thing."
I hope you enjoyed my take on the world of handcrafted items, and if you haven't given handmade artisans a chance yet, I hope you become a part of the handmade world and enjoy the many benefits it offers.
Looking for gift ideas for mom, for dad or for baby?  Here they are!
---
Not only do I love buying handmade things, I also love making them.  Curious to see what I make?  I'd love to show you.  Check out all the adorable baby things in my Etsy store, Meadoria.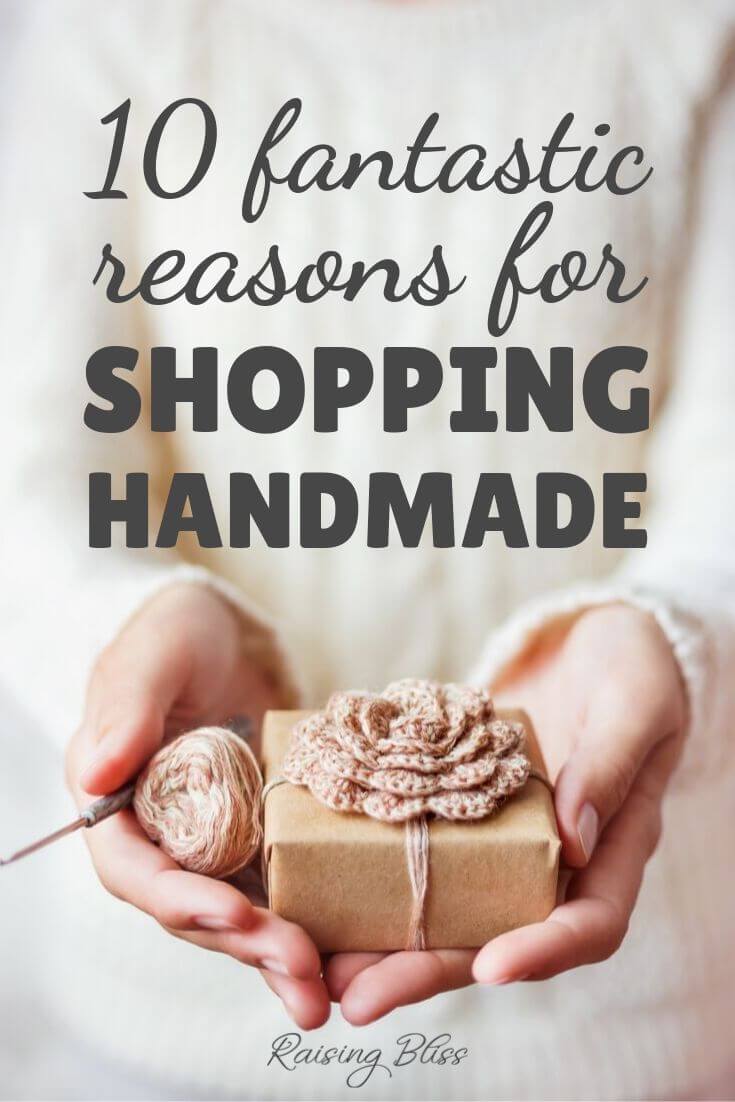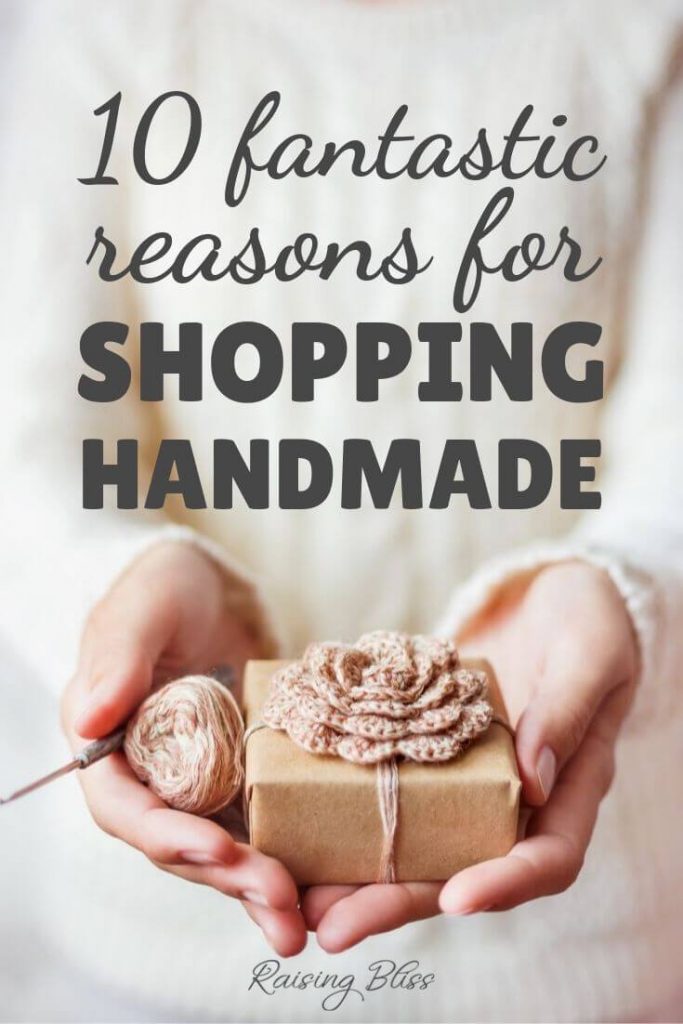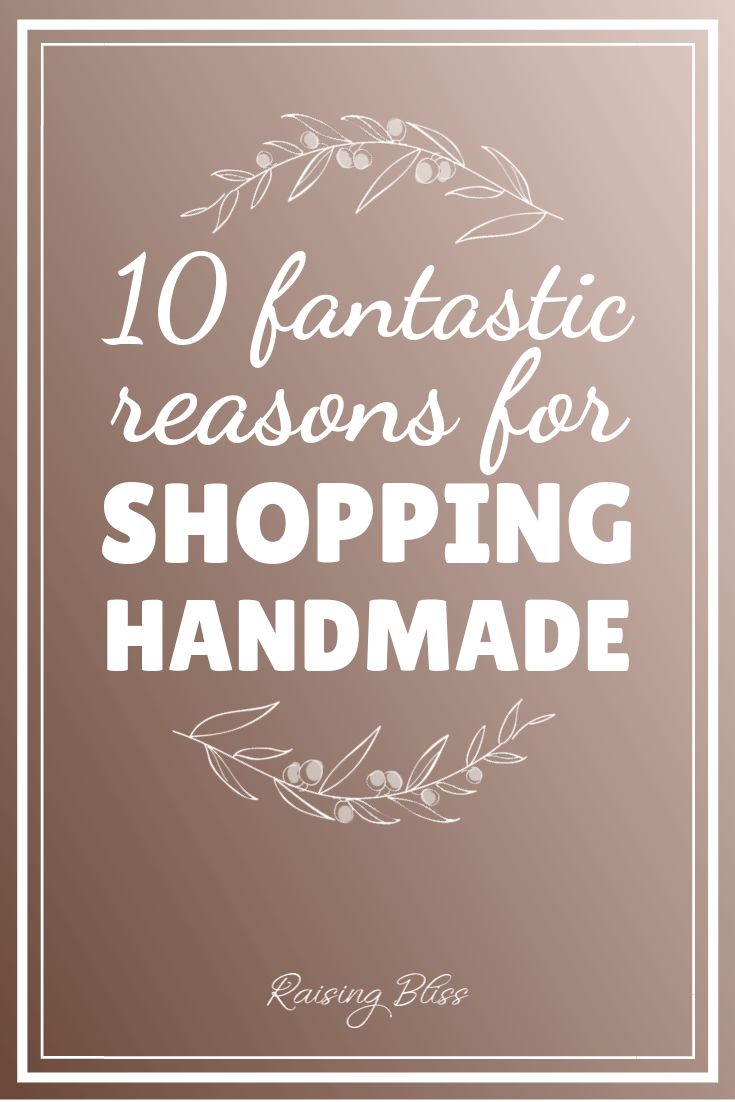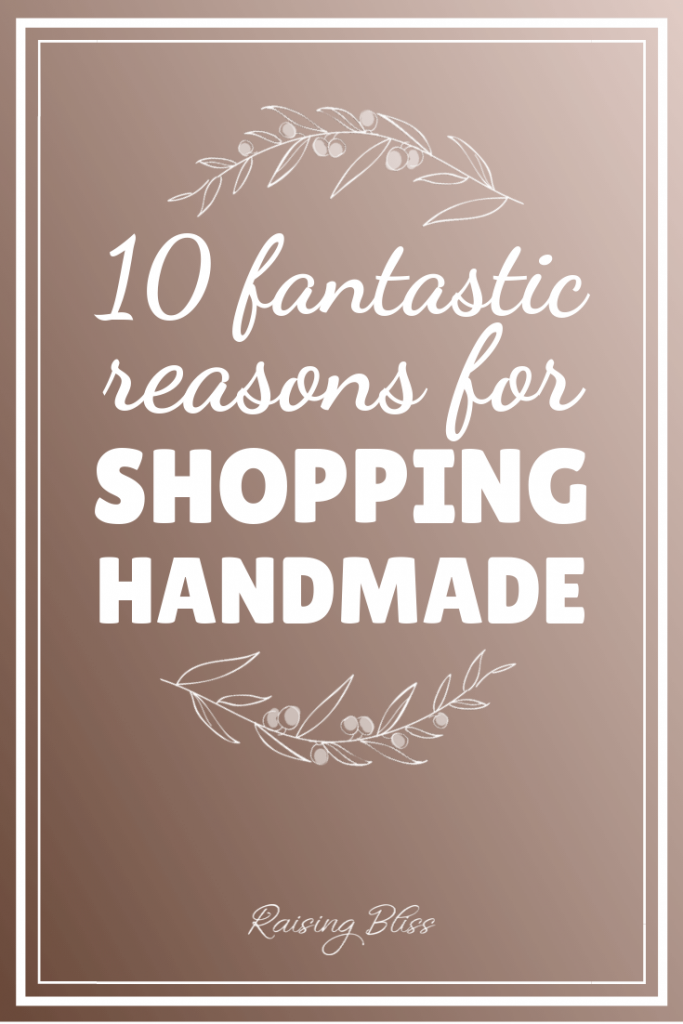 10 Fantastic Reasons for Shopping Handmade